Officials seek cause of fire
State fire investigators and local firefighters on Tuesday scoured through debris left by an intense house fire that broke out during the night at a house across the street from Tonganoxie Elementary School.
According to Tonganoxie Fire Chief David Bennett, an investigator with the State Fire Marshal's office has listed the cause as "undetermined." Bennett said firefighters would interview more people as part of their ongoing investigation into the fire.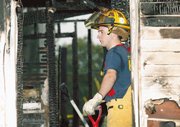 No one was home at 303 E. Third St. when the fire broke out about 3 a.m. Tuesday, Bennett said.
When firefighters arrived at the northeast corner of Third and Shawnee streets, Bennett said, the house was engulfed in flames. Only a brick chimney and a pile of blackened, tangled wood remained after the fire was brought under control about 4 a.m.
"For the first time in my 17 years, we could not do an interior attack," Bennett said about the intensity of the blaze. "We didn't even have a chance when we got here. It was gone when we got here."
The fire was hot enough to melt siding and guttering on a neighboring house, which was 16 feet away. That home, owned by Steve and Brenda Firuccia, had only minor water and smoke damage.
"It's pretty good," said Firuccia, who purchased the home 10 years ago. "We got a little water damage. I was spraying mine with a garden hose."
Tom Heinz, 17, said his mother, Frances Heinz, and her boyfriend, Allen Miller, lived at the house.
Tom Heinz said no one was home at the time of the fire. He said his mother, who had owned the home for nearly three years, was at work in the bakery department of the Wal-Mart store in Bonner Springs. Miller, who had the day off from his job at the Wal-Mart tire and lube division, was out of town, helping a friend move, Tom Heinz said.
The young Heinz was spending the night with his grandparents.
He said that although he had been living temporarily with his grandparents, he lost numerous items in the fire, including autographed football cards and an autographed John Elway football jersey.
"It was in a glass case in my room," he said.
The family's cocker spaniel, Lilly, escaped the fire by jumping through a window, Heinz said, but the youth's 8-week-old pug, Drago, perished in the fire.
Firuccia said his wife, Brenda, was among those who reported the fire.
"We just woke up and saw flames," he said, adding that his family, including two children, made it to safety.
Although early reports said natural gas was a possible cause, firefighters on the scene said natural gas was not a factor.
"It appears right now to not be a gas explosion or leak," Bennett said.
He said that use of a 75-foot aerial truck helped save the Firuccia house and bring the fire under control that destroyed the Heinz home.
"That truck saved us," Bennett said. "Once we got it up, we really knocked the fire down."
Bennett was clearly upset that the house was destroyed.
"This is the first house that we've lost inside the city limits, in my nearly 17 years, other than the apartments," he said.
He was referring to a fire in February 2001 on Ridge Circle destroyed several apartments.
The house is east across the street from Tonganoxie Elementary School, 304 Shawnee. Tuesday morning, traffic was diverted from the street between the school and the burned structure.
A total of 25 to 40 firefighters from three fire departments pumped about 85,000 gallons of water on the blaze. City firefighters were assisted by firefighters from Stranger Township and Tonganoxie Township fire departments.
Bennett estimated the loss at about $20,000 for contents and between $80,000 and $90,000 for the house.