Speedway fever hits Kansas again
Ryan Newman climbed out of his car Sunday at Kansas Speedway and promptly climbed up the NASCAR Winston Cup Series standings.
Newman won for the first time at the speedway, clinching his eighth win of the season. He also climbed from fifth to fourth in the cup standings, the highest of his career. He now trails leader Matt Kenseth by 364 points.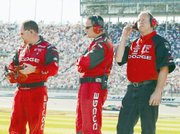 The victory was Newman's ninth career victory in 74 starts, but he came close to two more at Kansas Speedway -- he has taken second in two other races at the speedway.
Newman led for just 28 laps Sunday, but they were the race's final 28 laps. Bill Elliott, meanwhile, led 115 of 267 laps, but had to settle for second.
On Saturday at the Mr. Goodcents 300, David Green watched a likely third-place finish become a Busch Cup Series victory when leader Michael Waltrip was ousted after hitting the wall with five laps to go. On the last lap, Bobby Hamilton Jr. also crashed, allowing Green to take the victory.
Kevin Harvick finished second and Greg Biffle took third.
The racing weekend concluded this summer's racing season at Kansas Speedway.