New coach gives
THS

fresh outlook
Everything looks different this season in the Tonganoxie High soccer program.
The field at Chieftain Park was revamped in the spring and has a greener tint.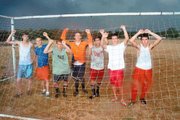 New uniforms display red with gold trim.
And on the sideline, a new coach strolls back and forth.
After spending seven years at Tonganoxie, Harold Pittman left his posts as the Chieftain coach and a minister at Tonganoxie Christian Church for a ministerial position in Oklahoma.
Enter Luke Denney, a former Nebraska football player and later Rockhurst goalie whom the school district hired in May.
Denney is fresh out of Rockhurst, playing last fall for the Hawks. A 1996 Nebraska High School Soccer Player of the Year from Omaha Central, Denney initially walked on at Nebraska in football. The Cornhusker State is one of a few states with boys soccer in the spring.
Denney walked on as a defensive back and has a national championship ring, but he spent much of his collegiate career playing soccer.
Now at Tonganoxie, Denney inherits a team that went 6-11-1 a year ago and lost notable seniors Jacob Walker, Caleb Poterbin and Taylor Sneed.
But a new era has started and senior Travis Andrews welcomes the new coach.
"Everything's different," Andrews said. "We're seeing it from a more modern point of view maybe."
Not everything's different. The Chieftains have a hefty senior class with seven players.
"There's a lot more senior leadership this season," goalie Luke Brown said.
The season started Friday for the Chieftains, who dropped to 0-1 after a 2-0 loss to Mill Valley in Shawnee. After Tuesday's game against Bonner Springs, the Chieftains play Thursday against Basehor-Linwood.
Those games could get the soccer ball rolling and start the Chieftains on a course that might land a few more numbers in the win column.
That, at least, is the plan for senior Shane Cooper.
"Our goals are set a lot higher this year," he said.