The 'Garage Guru'
Tonganoxie beginnings forged early life of Colorado author
An alumnus of Tonganoxie High School is about to tell the world how to organize their garages.
Bill West, author of "Your Garagenous Zone: The Complete Garage Guide," says if people read his book they'll de-clutter their garages. And, he says, their streamlined lives will provide more time for them to do the things they really want to do.
¢ Void of organizational systems, clutter tends to expand in direct proportion to the amount of space in an area. ¢ Every object in a collection of disarray in any space tends to remain in that state until an external force is applied to it. ¢ For every action of not putting an object in its place after using it, there is an opposite and undesirable reaction when attempting to find and use that object again, resulting in wasted time.
Organizing a garage is much a matter of letting go of unnecessary possessions, West said.
"We have so much excess in the garage that we really need to ask ourselves the question: Does this object add value to my life," West said. "If it doesn't, throw it away, give it away to a charity, or sell it at a garage sale."
West, who is 52, says he knows his advice could be useful. As a Realtor who's been in the business for 24 years, he's been in thousands of garages.
"And they all looked the same," West said.
Inspiration
The idea for his book came in 1998 when West dreamed up an idea for the perfect work bench for his garage in Fort Collins, Colo.
"I had that built, then one idea led to another about how to organize the garage and to make it a functional, clean and organized space in our home," West said.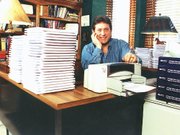 "Halfway through the project, I got to thinking other people would benefit from these ideas."
His self-published test market edition came off the press in 1999. Sales haven't been too shabby for a man who is better known as a Realtor than as a writer.
"It's sold over 2,300 copies," West said.
Which means, it's likely, he added, he's identified a market.
Now, West's spare time is consumed with rewriting the 200-page book to appeal to a national market. He approaches his editing with the same sort of ruthlessness he applies to cleaning his garage.
"When in doubt throw it out," West said of his stringent word editing process, which keeps him up late at night.
"Just the other night I was up until 5:30 in the morning," West said. "I went to bed early last night at 1:30, so it's been very intensive, very absorbing."
The first version of his book was well-received by the media, as well as readers.
"It was featured in the Wall Street Journal and in major newspapers around the country," West said.
His book was also mentioned in a Better Homes and Gardens remodeling article, as well as nationally syndicated radio programs dedicated to home improvement.
Room at the top
Venturing into a new career well into midlife could have been daunting. But for decades, West said he's tried to be open to new opportunities.
He recalled that as a child he was so shy he wouldn't even go to the grocery store with his mother. But at 13, he went to work for Champion's IGA.
"That was probably one of the best things that ever happened to me," West said. "Primarily because working with the public gives a great perspective in working with people."
After graduating from Kansas State University in 1973, West worked for his national collegiate fraternity. His job required that he travel for five months of the year.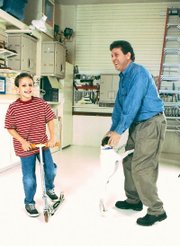 In the late '70s, West began thinking about what profession he could go into that would keep him closer to his home.
"One of the things I had thought about was a career in real estate," West said.
Because at that time there were 700 Realtors in Fort Collins, West realized competition would be stiff. He considered other careers, but his thoughts kept returning to the real estate field.
"It's interesting how we can talk ourselves almost out of anything," West said. "Some time later I had a different perspective and that was look at the number of Realtors -- there will always be a lot. It occurred to me that there is always room at the top."
"I just started my 26th year as a broker associate partner in real estate in Fort Collins," West said. "It's a company that's been featured in Trends magazine, and also named by the National Association of Realtors as the most productive independent real estate company in the country -- out of 100,000 real estate companies."
To West, his real estate work is not just a job.
"It's a career," West said. "So I've taken it very seriously. But I've had a lot of fun along the way."
West, who is a 1969 graduate of Tonganoxie High School, spends his spare time with his wife, Beverly Donnelley, a Fort Collins physician, and their 11-year-old son, Taylor.
Better than fiction
A Google search on the Internet pulled up about 20 hits on Bill West. But one thing about West that even Google doesn't know is that he's also a character in a fictional book written by the late Og Mandino, an internationally known inspirational and self-help author.
In the book, "The Twelfth Angel," Bill West plays the role of an old friend who is an insurance agent returned to town to help a friend who is grieving after the death of his wife and son.
In real life, West first met Mandino in 1984, when Mandino flew to Colorado to speak at a convention. West picked him up at the airport in Colorado Springs, and took him to lunch at a mountain resort.
"We became quick friends," West said. "From that time until his death in 1996 we remained in contact. One day in 1991, he called me up and said he had a contract for three more books. He asked if I would mind if he used my name in one of them."
Mandino inspired West much as he inspired the millions of readers he never met.
"One of the things I've always thought is if I could touch someone's life and not know about it," West said. "That's always been one of my goals."
Common ground
Ken Mark grew up on the same block as Bill West. As boys, they were in Scouts together, played ball together and went to each other's birthday parties. Through the years they have remained close friends.
Mark, who for 28 years has taught business and accounting classes at Kansas City Kansas Community College, said he may not ever get around to reading West's book on garages.
"Garages, I guess, aren't that important to me," Mark said. "Ours is functional and that's all that matters."
But, he said, West has long inspired him in other ways.
Mark recalled that as a teen, West was a leader in the high school chapter of Fellowship of Christian Athletes, and he was an active member of the Tonganoxie Methodist Church.
Perhaps that's part of the grounding that has helped lead West to success today, said Mark, who still lives in Tonganoxie.
"He has used positive thinking principles a great deal in his career," Mark said. "When you think about it, a salesman is mainly selling himself or herself. If they do not have integrity and character, it often shows and no matter how good their product or service is, they will likely not be as successful as they would have been."
Mark recalled that, like most of his classmates, West's financial start in life was modest.
"His dad was 51 and his mom was 41 when he was born. His dad was on disability for as long as I can remember," Mark said. "Needless to say, finances were probably not too good when he was a kid."
And, Mark said, even as a child he was surprised when watching a 7-year-old West open birthday presents.
"He received a lot of neat stuff, like cars and army men," Mark said. "But, the thing he was most excited about was a savings bond that someone gave him. I remember thinking how boring, but it showed that he, at a very early age, had a sense about the real world."
On the horizon
West said it's possible he might write more books during his lifetime. But one might wonder, given his penchant for philosophy, if his next book could possibly be less about garages and more about life.
Through the years, books have always been important to West, who is the son of the late Elmer and Helen West. While growing up in Tonganoxie, West spent countless hours at the city library. He was inspired by the children's books that were biographies of famous people. He's the first to vouch that books are a way to model our lives. This thought led West to mention to another famous person who has inspired him -- Charlie Tremendous Jones, another inspirational author.
"He said that the person you are five years from today is based on two things," West said. "It's the books you read and the people you meet."