Go, fight, Schwinn
MHS

standout lives dream with first

KSU

start
The scene was the same as it has been for many Saturdays this time each year in Manhattan.
An ocean of purple paints the stands at KSU Stadium as the Wildcat Marching Band blares out another verse of Wabash Cannonball. Students alternate their bodies to the beat of the song -- one fan in the student section sways forward as a neighbor sways back.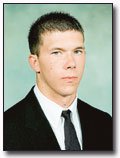 The motion engulfs the section. The energy in the stands rises, which means only one thing -- kickoff is oh so near.
When the players finally get their cue, the mob of purple- and silver-clad uniforms swarms to midfield.
But this Saturday, one of those players, who for so many times before has charged onto the field as a reserve, feels a different sensation.
That player is Jeff Schwinn, a McLouth standout who entered the Wildcat program as a walk-on, but on Saturday was Kansas State's starting quarterback.
With regular Ell Roberson out because of a broken wrist, Schwinn, a fifth-year senior, was called up for his first collegiate start Saturday against the Massachusetts Minutemen.
Unfortunately, Schwinn's first start probably didn't begin as he had envisioned. After all, that's all he could think about before going to bed the previous night.
Although the Wildcats drove to the UMass 34, Schwinn threw an interception. On their second drive, the Wildcats managed a field goal, but on the third drive, Schwinn threw another interception, this time at the Minutemen 28.
But as most games in Manhattan go, the Wildcats gained a full head of steam. K-State came back from a 7-3 early deficit and scored 21 points in the second quarter for a 24-7 halftime lead. The Wildcats added touchdowns in each of the final two quarters for a 38-7 win.
As for Schwinn, the former Bulldog had decent numbers after getting some series under his belt. Schwinn's longest pass completion was 41 yards. He went 17-for-26 for 228 yards and had one touchdown in the victory against UMass.
In his blood
Many Kansas high school players have aspirations of playing for Bill Snyder at K-State. And like a child sometimes adopting the parent's political views, Schwinn acquired a purple frame of mind from his parents -- and siblings.
Mike Schwinn, Jeff's father, is a KSU grad, as is his uncle, Greg Sparks of Tong-anoxie. Oh, and out of four children, three are attending or have attended KSU. Jeff, of course, is the third.
Justin Schwinn, Jeff's brother who also went to K-State, knows where the family loyalty is.
"We're K-Staters, we've got purple blood," he said. "I went to school at K-State. He was around the lifestyle there when I was in school."
Fulfilling a dream
As a young child, Schwinn knew he wanted to play Division-I athletics.
"When I was really young, I always would tell my mom I was going to play basketball or football," Schwinn said.
Schwinn picked the latter after a standout career at McLouth. The former MHS star had offers from community colleges and even showed interest in Kansas, but then-KU coach Terry Allen didn't have any interest in him. After visiting with high school coach Gerard Aligo, he decided on Kansas State.
"His intent since he was a little kid, he always wanted to play football for K-State," Aligo said. "As he got older, he got pretty good at what he was doing."
K-State invited Jeff to a campus visit his senior year and the longtime Wildcat eagerly accepted.
Brother Justin took Jeff to The Little Apple for his official visit. A former MHS quarterback himself and an assistant under Aligo at the time, Justin also served as Jeff's coaching representative.
"They asked him just to come out and look as a walk-on," Justin said. "We jumped at the chance.
"It opened both our eyes and he was excited from that moment on."
As the older brother and a quarterback himself, Justin has tutored Jeff in the past, but it's been awhile since that was the case.
"I did that in high school, but he's kind of advanced my level," Justin said.
Their mother, Judy, certainly has known about Jeff's dreams for some time, but she also knows that something else has helped him be a member of the K-State football team.
"I think it was just plain desire," Judy Schwinn said. "He looked at the junior colleges and small colleges and said this isn't where I want to go."
Paying his dues
In five years, Schwinn has gotten to travel across the country with the team, but it's also been a rough journey getting to where he is now.
"He was told when he went there he would pay his dues," Judy said. "He waited a long time."
Jeff has been on the scout team for most of his career at K-State. Last year, he did play in some games, including the Kansas game in Lawrence in which he played in seven downs and had a 42-yard run against the Jayhawks.
"That one play was really a joy and was more yards than KU had for the game," a proud Mike Schwinn said.
While on the scout team, Jeff also made strides. He won the Red Raider award for two straight years. The award honors the scout team's top player. While on the team, Schwinn was known for his ability to imitate opposing quarterbacks' moves.
Family support
Judy Schwinn and her family is always in Manhattan in plenty of time for Saturday gamedays, which includes tailgating at Camp Schwinn.
"We wear the Schwinn jersey," Judy said. "We're not bashful. We try to not be boastful, but we're not bashful."
Mike Schwinn never has missed a game in which his son has suited -- that includes an amazing trip two years ago to the Los Angeles Coliseum for a game against Southern Cal and plenty of bowl games.
Judy Schwinn, however, missed one -- the Insight.com Bowl two years ago in Phoenix.
But Jeff's mother had a pretty good reason -- Justin just became a father and Judy a first-time grandmother.
"I just sensed I needed to be here," Judy said. "I wasn't disappointed I wasn't there."
Syracuse trounced the Wildcats that year, 26-6.
Purple Pride times two
McLouth eagerly anticipated Jeff's first K-State start. A high school pep rally included a tribute to Jeff, while the message board at McLouth Oil read as follows: "Schwinn. Great bikes and quarterback. 14."
It was as if the Bulldogs were playing in the state title game. Posters adorned various businesses. Even local television stations were on hand for Friday's pep rally.
"I heard stories," Jeff said with a laugh, referring to all the hoopla in his hometown.
He was unsure how many locals headed to Manhattan, but the group included Aligo who now coaches at Baker University. Aligo caught the first two quarters before heading to Baldwin that night.
Game time
Schwinn is unsure how long he'll be stepping in for Roberson.
"I'm not real sure," Jeff said. "I asked my coach yesterday and he still doesn't know.
"Really, Ell is the starting quarterback. I think whatever happens with the injury right now I'm ready to step in and do the job."
Even if he doesn't start again, Jeff has reached a lifelong goal.
"He deserves now what he got and hopefully he has some success with it," Aligo said.