Clays for clams
Sure-shots raise money for Sherman Township Fire Department
Once again, Sam Seaman outdid his dad and uncles.
As the orange clay pigeons rocketed from the concrete bunker, Sam aimed his shotgun and pulled the trigger. In midair, his target blew into a dozen pieces.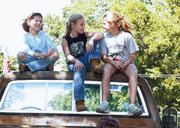 The 13-year-old Linwood boy was one of 70-some participants in Saturday's Sherman Township Firefighters annual trap shoot. He not only had a fun day -- he had a productive day. In a post-competition drawing, Sam won a new shotgun.
The event was held at the Tri-County Rod and Gun Club, two miles northeast of Linwood.
In the single-shot division of the fund-raiser, Sam made nine points, while his father, Joe Seaman, scored six, his uncles, Steve Seaman, seven, and Ed Seaman six.
Steve Seaman said the family always tries to make it to the sporting event -- and they do have fun -- even if his nephew tends to score higher than he does.
"The sad part is they post the scores on the bulletin board in there," Steve Seaman said, laughing. "It's so humbling that maybe I should use an assumed name."
Nearby, Justin Sturgeon, a 1998 graduate of Tonganoxie High School, and a recent graduate of Kansas State University, talked shooting with his comrades. By the end of the day, Sturgeon would tie for first place with two other participants -- Tom Sheldon and Albert Sheldon.
Although the grand prize was a shotgun donated by Harrington Funeral Home in Bonner Springs, the winners weren't the first in line for it.
"For the top prize, the gun, we drew at random from everybody," Sturgeon said. "So the last-place shooter could have just as good of an opportunity as anybody else."
For his part in ranking among the top scores, which was a cumulative of points made in all the events, Tom Sheldon had to put up with some good-natured ribbing.
Perhaps that had something to do with the fact that in 2001 and 2000, Sheldon won the tournaments.
"I had a following," Sheldon said of Saturday's shoot. "There were five or six people harassing me all the way through."
Sheldon, who lives in Olathe, and Kirt Belz, the club's caretaker who lives on the grounds, arranged for the fire department's use of the grounds.
As Saturday's competition wound to a close, Dan Tallman, chief of the Sherman Township Fire Department, said attendance was down this year. Normally between 100 and 150 participate. The difference, he said, could be that in the past the event has been held on a Sunday. To boost attendance, it's likely next year the shoot will return to a Sunday.
But proceeds were good, Tallman said.
By Monday afternoon, the firefighters had tallied $2,229, and Tallman said he thought about $200 more would be contributed. And, he estimated the donations that went into running the event, such as prizes, groceries for the lunch stand, the clay pigeons and use of the facility, would total about $1,000.
This is Sherman Township firefighters' primary annual fund-raiser. Proceeds from the shoot have purchased a Jaws of Life, two portable defibrillators, and two suction units, Tallman said.
"We try to buy something medical because it goes right to work for the community, and it makes our job so much easier," Tallman said.
Of the firefighters, Tallman said they all deserve credit, not only for the successful fund-raiser, but also for the work they do all year long.
"It's a 100 percent volunteer organization," Tallman said. "Nobody's paid. We're all here because we want to be."
Justin Sturgeon said that, although the Tri-County Rod and Gun Club is a membership organization, the club also holds regular events that are open to the public.
"We just love to see anybody come out for any of the open events," Sturgeon said. "It's a pretty good atmosphere and you don't have to be experienced."
Some of these events include:
Wednesday nights, 6 p.m. to 10 p.m., trap shoots.
¢ Third Sunday afternoon of every month from March through September, 3-D archery shoot.
¢ On Oct. 3, the indoor archery target shooting league starts up.
¢ Summertime, outdoor pistol league.
¢ First week of January, indoor pistol shoot.
But Sturgeon said, it takes a lot of manpower to set up for the events like the 3-D archery range, which is open to the public.
"We're having a hard time getting volunteers to help," Sturgeon said. "We're in big danger of not having it next year because of the lack of volunteers."