Obituary: Betty Rose Smith
1934-2004
Services for Betty Rose Smith, 70, Leavenworth, were Friday, April 23, 3004, at the United Methodist Church in Hartford, Kan. Burial was in the Hartford Cemetery.
Mrs. Smith died April 20, 2004, at St. John Hospital, Leavenworth, after a long battle with cancer. She was born April 3, 1934, on a farm near Burlington, the daughter of Leslie and Dolly (Meyer) Castle.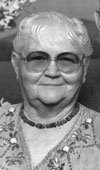 On June 21, 1952, she married Lee A. Smith in Burlington. She retired after 17 years of service between the Lawrence and Leavenworth Kmart stores.
Mrs. Smith was a member of the United Methodist Church and was active in the Kansas Quarter Horse Racing Association.
Survivors include her husband, Lee A. Smith, of the home; a son, Ron Smith, Silver Lake; three daughters, Janet Smith, El Dorado, Rhonda Smith, of the home, and Vicki Baxter, Rye, Colo.; a brother, Bud Castle, Clearwater; two sisters, Delores Stanley, Sedgwick, and Hildred Blankley, McLouth; 10 grandchildren; and one great-grandchild.
The family suggests memorial contributions to Hartford United Methodist Church or Kansas Quarter Horse Racing Association, sent in care of Quisenberry Funeral Home, Box 993, Tonganoxie 66086.