EPA

tets itself on strategies to handle hazardous materials
It only looked scary.
Last Thursday afternoon, a half-dozen EPA officials walked down a dusty road that leads into the county's rock quarry.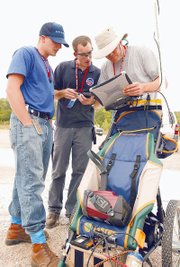 They were in search of radioactive materials. Their equipment included a Geiger counter mounted to a jogging stroller, a flame ionization detector, a thermal imaging camera and an assortment of handheld communication devices.
This was all part of operation "Ruby Slipper," a disaster drill in which more than 130 EPA agents from across the country participated.
The event, in which no hazardous materials were used, was staged Thursday and Friday in and near Tonganoxie. A command center was set up at the Leavenworth County Fairgrounds, and the search was conducted at the quarry a mile west of Tonganoxie.
According to a presentation by Jeffrey Holmstead, EPA assistant administrator for air and radiation, last week's drill gave the federal officials an opportunity to "test and evaluate the effectiveness of its internal response plans, procedures an capabilities in the event of a radiological emergency of national significance."
Kathleen Fenton, who works in public affairs for EPA in Region 7, helped organize the event. Fenton said the quarry was chosen because of its rugged terrain. And, Tonganoxie was chosen because of its proximity to Fort Leavenworth, where another section of the drill was held.
"We picked something that was far enough away that they actually would have to commute the work and the information back to Fort Leavenworth," Fenton said.
And, she said, according to the script, the search was taking place not in Kansas, but in Oklahoma.
"We're simulating Oklahoma because we wanted to involve another region," Fenton said. "We're Region 7, they're Region 6, so we wanted to test our communications."
Region 7, headquartered in Kansas City, Mo., covers Iowa, Kansas, Missouri and Nebraska. Region 6, headquartered in Dallas, includes Louisiana, Arkansas, Oklahoma, New Mexico and Texas.
By Thursday afternoon, it appeared the drill was operating as planned.
"The partners that EPA have worked with at the Fort and in Leavenworth County and Tonganoxie have been fabulous," Fenton said. "To pull off a big exercise like this has been very tough logistically, and people have been very gracious in helping us make this as real as possible."
Some of the participants in the exercise were EPA officials, she said, and others were contractors who partner with the EPA to provide computer and technical support, Fenton said.
The goals were multifaceted.
"To understand how our protocols work," Fenton said. "And if our communications networks are what they need to be, and do all our technological tools work."
Months of planning preceded the event.
"This is a very big operation," Fenton said. "This exercise took a year to logistically plan, and the folks that are here are training all the time to be ready for events like this."