Where did they go?
Some folks move to area because of track
Editor's note: This concludes The Mirror's two-part series of stories on people who have moved into the area, after being displaced by the Kansas Speedway and ancillary development.
Ten years ago, Twila Hickman never dreamed she and her husband, Jay, would end up living in the Tonganoxie area.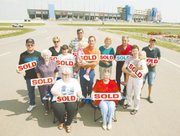 They were happy in their bustling neighborhood in Wyandotte County.
"We had settled in the location and that's where we were going to grow old, that's where your grandkids were going to come back to," Twila said.
Even today, her voice cracks and tears come to her eyes as she talks about the home where they raised their two sons.
"That was the last house we were ever going to buy," Twila said. "That's where we were going to stay for our lifetimes."
But when the Hickmans realized they'd have to sell their Wyandotte County home, they couldn't find anything nearby that they liked. So, they headed west -- to Tonganoxie.
It turned out to be a good choice. Three years ago, they opened Countryside Garden Center in Tonganoxie. Since then the business -- and the area's population -- have grown.
Twila said she understands -- as painful as it was for her family -- why their former neighborhood was chosen as a site for a racetrack.
"In my opinion, they had other locations to look at, but they did the exact right thing by putting it at 435 and I-70," Twila said. "It makes perfect sense from a business standpoint."
And, she said, the business itself -- a racetrack -- was a good selection for Kansas City.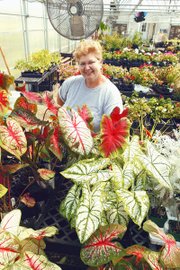 "I never disagreed with the project," Twila said. "I thought it was a wonderful project -- the speedway. It could have been turned into so many different things."
Even though Kansas Speedway has been a success and has been a key to luring in other businesses -- such as Cabela's and Nebraska Furniture Mart, the Hickmans are bitter about the land takeover.
"Most of our communication came from the 6 o'clock news," Twila said. "They (the Unified Government) very poorly communicated with the homeowners about what was going to happen."
Her gripe never was with the speedway.
"The speedway was very cautious," Twila said. "... They always projected their wish for the homeowners to be happy and move on. They knew it was an imposition -- that was the kind of comment you got from them -- their concern for the homeowners. Whether they meant it or not I don't know, but at the time it felt good."
Part of the problem, Twila said, was that the Unified Government had never undertaken a project of that magnitude.
"I think that project was so big that they didn't know how to handle it," Twila said.
For instance, Twila said at first they were told they'd receive moving and displacement costs.
Then the state decided homeowners should be paid 125 percent of their property's valuation. That sounded good, she said, until it was learned there would be no moving and displacement costs.
"The pie didn't change, there wasn't more money," Twila said. "You just got a different wedge."
The price they received for their house was appropriate, she said.
"Did we get fair market value for our property? Yes," Twila said. "Was it over and above what we should have gotten? No."
As she hears that land prices near the speedway now are so high that property is being sold by the square foot, Twila is not envious.
"For those people who are still there I'm am tickled for them that they're getting to sell by the square foot," she said. "And they should."
After the move
Although the move to Tonganoxie went smoothly, the Hickmans' conflicts with Kansas City, Kan., were far from finished.
Jay was a detective with the Kansas City, Kan., police department. Two and a half years after the family moved to Tonganoxie, Jay was fired because he wasn't living in Wyandotte County. The only way he could regain his job -- and fulfill his mandatory 23 years of work to quality for retirement -- was to move back to Wyandotte County.
He rented an apartment while his family stayed in Tonganoxie. But city inspectors decided the apartment had structural problems and could not be rented. With less than a year left until he would be eligible for retirement, Jay parked an RV at Piper Lake (in Wyandotte County), where he lived until he could retire.
Today, two years later, Jay is still bitter -- about his former work situation as well as how the sale of the homes went through.
Homeowners signed contracts to sell to the Unified Government. But eight months later they still had not received money. They couldn't move on -- they didn't have the funds to pay for a new house -- and they couldn't stay where they were.
To speed the process, Jay organized neighbors and contacted television news stations. After two stations reported the story, Jay said, International Speedway Corporation intervened. Grant Lynch is regional vice president of ISC.
"Grant Lynch's group got wind of all that and said, hold on we'll get your money through our funds and then the city will have to pay us back," Jay said. "... They gave us the money so we could move on."
Even though the transition was painful, Jay has nothing against the racetrack.
"That's a great development out there," Jay said.
And he's happy he and Twila chose Tonganoxie for their home.
"We're glad we're out of there," Jay said. "It was a blessing, looking back. We love Leavenworth County, we love Tonganoxie."
Moving on
Russ and Lois Marriott have moved on with their lives.
"We made more money out of the house than probably if we had tried to sell it," Lois said of their house on property now occupied by Kansas Speedway.
The Marriotts moved from Wyandotte County to Sedalia, Mo. Several years after that, they moved to a rural home southwest of Basehor, where Lois said they're happy.
But even today she's puzzled at the way the Unified Government took their property to use for the racetrack.
"I just think it's bad that a business like that can come in and take property," Lois said.
She recalled her former home in Wyandotte County.
It had a beautiful trees and great neighbors.
"It was a really friendly nice neighborhood," Lois said. "Everybody helped each other -- that's hard to find nowadays."
Putting it in perspective
Ken and Mattie Karcher weren't satisfied with the price they were paid for their home in Wyandotte County.
"We got shafted," Karcher said. "I think we could have done better on the open market. ... It was far from an equitable agreement between the buyer and the seller -- the buyer had a hammer."
The Karchers, who had lived in their home for 25 years, had obtained an independent appraisal. But the Unified Government had its own appraiser, who gave the home a lesser value, Karcher said.
Even so, in looking at the prices that Wyandotte County property owners not far from where the Karchers used to live, he's not begrudging.
"It doesn't do any good to lust after somebody else's property," Karcher said. "If they got a million bucks out of it -- fine. We've still got our health, we're still able to work -- we're enjoying life."
Karcher said life in his former neighborhood in the mid-1990s was unsettling. First came talk of an Oz theme park.
"Then they told us the speedway was coming in," Karcher said. "... That's when we found out we went from residential zoning to agricultural to blighted. That was the term that our property was blighted. We couldn't understand what they meant by that."
The Karchers heard these terms at informational meetings. They also heard the phrase "eminent domain."
"After the third meeting the lightbulb went on and we figured boy we're in some deep doo-doo now," Karcher said. "And we were. There was no negotiating, there were no ground rules."
The Karchers, like some of their neighbors, left the county.
"The majority of us elected not to stay in Wyandotte County because we felt that property rights were violated, that the county government would sell us out for a buck," Karcher said. "That's not to say that it didn't bring the county back, but it was just the way they did it."
They decided to make sure that wouldn't happen to them again.
"We probably looked at 15 or 20 pieces of property out here," Karcher said. "This one was probably out far enough. We didn't think there would be a whole lot of development, we knew there would not be another racetrack and we didn't think Basehor international airport would expand that far."
Good timing
Of former speedway-area residents interviewed, the moving process disrupted Sherry and Larry Coulters' lives the least. The couple already owned 18 acres with a hilltop view in southern Leavenworth County where they planned to build a home.
"I think we were more fortunate than some of our neighbors that lived in the racetrack," Sherry said. "Because we already had been thinking about moving and had a piece of property that belonged to us. We knew where we wanted to build our house and we knew who we wanted to build our house."
The price they received for their home in Wyandotte County was fair, Sherry said.
"But I also kind of feel like if they used the eminent domain that they should have given you a little bit extra for that," Sherry added.
The Coulters built their home southeast of Tonganoxie. That's where Sherry, now retired from Procter and Gamble, started a new business.
She and her business partners at "A Stitch Above" do machine embroidery, screen-printing and sell promotional products, primarily for corporations.
Ironically, she said she's even done a little work for the business that's now located where she used to live -- Kansas Speedway.
That's great with Sherry, who's become a car race fan.
"The first year, they (Kansas Speedway) gave us two free tickets, one for Larry and one for myself," Sherry said. "Our kids were real excited, so we bought season tickets for them."
And they've bought season tickets for the family every year since.
Not only do the Coulters attend the races, they also now watch car races on TV. In fact, Nascar driver Ricky Rudd, who used to drive the Tide car sent the Coulters a thank you note.
"He said he knew how hard it was for some of the people and he thanked us for giving up our house and for making way for the track and things like that," she said.
Rudd also sent an autographed poster.
"He probably doesn't think much about it, but it meant a lot to me," she said.
Since the Coulters' moved to the Tonganoxie area, others in their family followed.
Her in-laws moved into a mobile home beside their house. And Sherry and Larry's granddaughter and her granddaughter's mother and stepfather liked the area and are building a house as well.
The move provided opportunities, she said.
"I wouldn't have had room to have this business at my other house," she said.
And that's why Sherry Coulter's glad, as far as her family is concerned, that the Unified Government came along with plans for the speedway when it did.
"I think that was a chance. This is something we had anticipated and kind of wanted to do," she said. "This was just the extra nudge we needed to go ahead and do what we wanted to do to enjoy the extra years out there."
Mayor's view
During the relocation process, Marinovich attended public meetings with the affected residents.
For the mayor, as well as for the residents, it was a draining time.

"I'd go home just emotionally, mentally exhausted," she said. "That really was hard, knowing that there were those who didn't want to move and that you supported the decision to hurt a certain group of people to benefit more. It was the right decision, but it was not an easy decision."
Today it's easy to say the speedway area and Village West commercial development, which came about because of the presence of Kansas Speedway, is a success. But in the late 1990s in the Unified Government's early planning stages, the future of western Wyandotte County was still a great unknown.
Marinovich said the Unified Government originally looked at two sites, one of which was across the street from a large residential neighborhood.
"What a lot of them said during the public hearing process was we want you to buy our homes, we don't want to be across the street," Marinovich said. "Which was understandable, but I've also wondered, as time went on, if they believed it was really going to happen. It wasn't a definite at that point."
The locations considered had one thing in common: They were near the junction of two interstate highways.
Now, some six years after the last residents of the speedway area packed their boxes and turned out the lights in their western Wyandotte County homes, the economic benefits of Kansas Speedway and Village West are known.
"That 400 acres was generating about $15,000 a year in property taxes," Marinovich said. "At the total building out of Village West (in about three years), it should be generating almost $7 million."
The 2003 taxes from businesses in Village West, Marinovich added, put $2.6 million into the Unified Government, the school district, the community college and the state.
"And Village West would not have been possible without the Speedway," she said.
Plus, she said, an added benefit of the business development has been an unexpected housing boom for Wyandotte County.
This is a sort of economic development in reverse, Marinovich said.
"Usually the retail follows the rooftops and now the rooftops are following the retail," Marinovich said.
The new revenue being pumped into the city has lowered the mill levy and is providing funds for revitalization of the older parts of Kansas City, Kan., Marinovich said.
"And then, dollars and cents of the economics aside," Marinovich said. "There's the image of our community. I don't know how you could put a dollar figure on that."