Skeeter and the bull
McLouth teenager taking bull-riding by the horns across nation
Skeeter Kingsolver is about to enter the world of high school.
For some reason, though, starting at McLouth High seems scarier to the 14-year-old than his hobby of bull riding.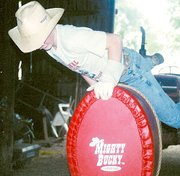 "I'm afraid my teachers won't let me miss school to compete in my bull riding," Kingsolver said.
Kingsolver has been riding bulls for three years. He started by going to a class with a friend and was hooked right away. Now, he practices in his barn and with two of his bulls, Redman and Sapada. And he dedicates himself to working out and lifting weights at 6 a.m. to stay strong for the ride.
In fact, his most important goal is to stay healthy so he can be the best bull rider in his division. Right now, Kingsolver is in the junior division because of his age. He is placed in his class based on how much he weighs and how the bull bucks.
The young rider, however, hasn't always had a smooth ride.
Kingsolver has broken his collarbone, had at least four concussions, and has had several black eyes. Despite the injuries while riding, it doesn't stop him.
His mother, Sue Kingsolver, said she worries about him getting hurt but if bull riding makes him happy, she supports him.
"The risks are so much," Sue Kingsolver said. "When he falls down or gets hurt, I have a huge lump in my throat until he looks up and then I can breathe again."
Kingsolver competes in several different organizations and associations all around the country and has won several titles and trophies while riding. He is a part of the National Junior Bull Riders, the Watring Ruststop Cowboys Association and the Missouri Junior Bull Riders.
Recently, in northeast Oklahoma at the National Junior Bull Riders competition he was one point behind the leading bull rider in his division. At Mattox Arena, in Derby., and at Bullzilla in Gutherie, Okla., he finished in second place.
In March he traveled to California to compete in the championships. He also participated in the Ottawa Christian Youth Rodeo and the Clem McSpadden Championship Youth Rodeo in Tulsa, Okla., where he placed first.
Kingsolver said he got started in bull riding by attending a class offered by a 1970s bull riding champion named Gary Leffew.
For Kingsolver, bull riding now is second nature.
"It's like home," Kingsolver said. "It's comfortable. And it's a good feeling."
He said the key to bull riding lies in his mindset.
"You gotta clear your head and do it," Kingsolver said. "You have to think you can, it's mostly in your head -- you gotta want it."
A challenge for Kingsolver was progressing from steers to bulls.
"It was a big jump from steers to bulls," Kingsolver said. "You can feel a difference. It's hard to get used to it, it's more of a challenge and it's more satisfying."
Kingsolver said he recommends that anyone interested in bull riding should go to school for it.
"You gotta go to a bull riding school for the basics," Kingsolver said. "If you want to learn how to ride, start out on a good note."
Kingsolver says his next big challenge is nationals and his dream is to ride professionally.
"I'd like to see myself in the future riding in the Professional Bull Riders competition," Kingsolver said.
Kingsolver says his favorite part of the rodeo is the second before he goes out.
"When the bull riding comes up you just get all of that adrenaline and you just want to ride," Kingsolver said.
Sue Kingsolver says it's hard to watch her child compete in bull riding.
"It's nerve-racking," Sue Kingsolver said. "I want to see him happy and healthy, and as a parent watching him climb aboard a 1,000-pound bull, you get that same adrenaline rush and you just watch and pray."
But Randy and Sue Kingsolver say they couldn't be prouder of their son.
"How dedicated he is -- it shows a lot of his character," Sue Kingsolver said.
-- Reporter Sheila Partridge is a summer intern at The Mirror.