Final testing of 4-H'ers work done after fair
Group follows cattle to Emporia packing plant
Although the Leavenworth County Fair wrapped up Saturday night, for some of the 4-H'ers, results are still pending.
That's because, once livestock are auctioned and sent to processing plants, there's one more category to be judged -- carcass evaluation.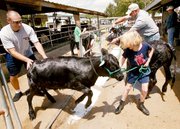 On Saturday, Leavenworth County Extension Agent Leon Stites, and three others who were involved in the fair's 4-H activities -- Damon New, Aaron Hund and Matt Yunghans -- traveled to a beef slaughter and packing operation in Emporia.
Last Friday, Stites said he expected that about 45 cattle would be sent to the Emporia plant.
"We'll go through the slaughtering process," Stites said. "We'll follow the cattle through."
Stites noted the group would not be present when the animals were killed. And he said, volunteers were eager to accompany him.
"Finding people to go is not hard because people are very interested," Stites said. "Although I wouldn't call it an exciting experience, it is a very interesting experience to go down and watch the process."
Stites said that by the time the Leavenworth County group would see the animal, it would be hanging from a rail that runs the length of the plant.
"As it passes through the stations, each worker has a particular function," Stites said. "One guy may start removing the hide, one guy may remove more of it and there is one guy whose sole job is to remove the ears."
And, Stites said, this is where it's apparent that an animal's care makes a difference in the price. Beef producers are paid by the pound for good-quality meat.
If there is a hard spot or a bruise, this means fewer profits for producers.
"When they have a bruise, they may remove five pounds of meat in removing the bruised area," Stites said. "Because they want to make sure that they carve all around it. And so it behooves us to take care of them because you don't want them getting beaten up and bruised."
And Stites noted, beef prices were looking good last week.
"Our floor price is 81 cents a pound, which is very good," he said. "Last year prices were pretty good, but we were in the 70s."
The yield of a beef is generally about 60 to 65 percent of live weight, Stites said.
"That becomes very important if it averages from 60 to 65 percent on a 1,200-pound animal," Stites said. "That's a lot of dollars."
However, he said, some of the cattle may turn out to be dark cutters, which means the animal may have suffered some stress prior to the butchering.
The meat is edible, but is usually used for soups and other such products, he said. And, producers who've brought in dark cutters are paid less -- about 50 cents a pound, Stites said.
Not only will Stites attend the process at Emporia, but also at other area meat packing facilities that handle the fair's livestock purchases.
This is so he can keep track of the quality of the livestock auctioned at the fair. The information will be shared with a Kansas State professor who will select the top yielding animals. He will meet with the 4-H members and present awards.
It's a complicated process, Stites said, for 4-H'ers to raise high-quality livestock.
Much depends on proper nutrition.
"They have to control what the animals eat and how much they eat," Stites said.
And Stites said, how the animal has lived is important.
"Has the animal spent its life in a pretty cushy environment, or are they out there struggling?" Stites said. "Are they well cared for and have they been given shelter when shelter is needed?"
And, because the 4-H'ers have to show their animals at the fair, the animals have to be fairly tame.
"The taming process takes place when the kids are working with them to get them to show well," Stites said. "It's just like training your dog. If you spend a lot of time with them, it seems easy."
He's proud of Leavenworth County's involvement in fair activities. In fact Stites said the county's fair has the largest livestock show in the state.
And, nothing pleases him more than seeing a child successfully lead a steer or heifer through the show ring.
"You could take a steer the age of these steers, lead them in and if it wasn't tame, 50 guys on a rope could never control it," Stites said.