Tonganoxie toddler thrives with agency's help
A day in the park is a little different for Tesla.
But thanks to three and a half years of therapy, the young Tonganoxie girl is now able to park her tot-sized walker by the jungle gym, and off she trots -- albeit often crawling on her hands and knees -- to keep up with other children.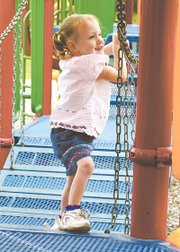 In fact, given a few seconds Tesla, who will turn 4 next month, can climb to the top of the tallest slippery slide in Chieftain Park and with a loud and fearless "Wheeeeeeeee" make her way down again.
Tesla's mother, Laura Felty, shudders when she recalls a doctor's suggestion that her infant daughter be institutionalized.
For Laura and her husband, Russell, that was not an option.
When the couple brought Tesla home from the hospital, she was 3 months old and weighed 3 pounds 12 ounces. Though Tesla is still small for her age, with the help of therapists who have made home visits, and with a year of specialized preschool experience in Basehor, slowly, slowly, Tesla seems to be catching up. In fact, she's even starting to talk -- and her vocabulary expands every day.
Laura is quick to credit Dawn O'Brien, director of tiny-K, which provides early intervention services for Leavenworth County children from birth to 3 years.
The services, provided to families at no cost, include physical therapy, speech/language therapy, occupational therapy, early childhood special education, social work and family service coordination.
"It benefits all the babies," Laura Felty said. "Unfortunately, they keep getting their budget cut."
Felty said O'Brien's dedication is obvious.
"She has a genuine love for kids," Felty said. "When I see her talk to Tesla, her whole face just lights up. I don't think that she gets all that much money being the director of it -- I think it's just that she loves kids."
In fact, O'Brien's work with tiny-K not only includes helping provide services -- it also includes fund raising. At 11 a.m. Saturday, tiny-K will sponsor a TurboTurtle race at the Tonganoxie swimming pool. Area residents are invited to sponsor the toy turtles that will race across the water. The $5 entry fee helps provide therapy services to children such as Tesla.
"Tiny-K is what gave us hope for Tesla," Felty said. "I think if it weren't for Dawn and those therapists, Tesla wouldn't be nearly as developed. ... And they gave us hope for the future."
Determination
Though her life has been wrought with challenges, Tesla's smile seldom goes away.
Each day she becomes stronger, and each day, more like other kids her age. And more like her brother, who is only 7 months older than Tesla.
Born at 24 weeks gestation, Tesla didn't have a huge start in life. But she had people who believed in her. And she possessed a wealth of self-determination.
For instance, now that she can talk, Tesla easily tells those who try to help her, "Let me do it myself."
After all, she doesn't think of herself as handicapped, so why should they.
In the future
Felty, who spent part of last week visiting Tonganoxie businesses about sponsoring the TurboTurtle races, said she'll always be grateful to tiny-K.
When Tesla first came home from the hospital, therapists visited every other week. As Tesla began moving on her own, more services were provided. And, eventually therapists were coming to the Felty home twice a week.
As Tesla scrambles across the play area at Chieftain Park, Felty smiles.
She has hope for her daughter's future.
"With the progress she's making with tiny-K and with the preschool, I think that she might actually be able to become a functioning part of society," Felty said.