Father's Day at the Gilner house seemed like a normal holiday for Andy Gilner.
One present, a coffee-table book about major league ballparks, was perfect for Gilner. He, after all, played baseball at Allen County Community College, coached for years in the Ban Johnson and American Legion summer leagues and is the current Tonganoxie High baseball coach.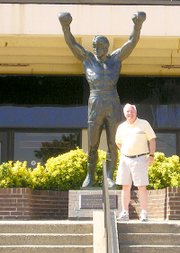 Inside that ordinary baseball book, however, Gilner found more than crisp pages adorned with full-color photos and a little text.
He discovered a few of those photos would be coming to life.
His daughter, Amanda Grigsby, made an itinerary and pasted it inside the book's front cover. Grigsby, who lives in New York City, invited her father to New York to see games at five major-league ball parks in five days.
"When we first knew we were going to move out here a year and half ago, it was one of the things in the back of my mind I thought would be cool," Grigsby said. "I didn't know whether it would happen because we didn't have a car."
Amanda and her husband, Joe, a Basehor native, obtained a vehicle -- that meant her notion could come into motion.
The vacation package didn't come easy.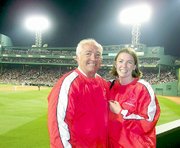 Finding five teams in the same area all playing at home at the same time is no easy task. She also planned to take her father to PNC Park in Pittsburgh, but the Pirates weren't in town.
She also pondered heading to Toronto's Skydome to see the Blue Jays, but then decided against it.
"I didn't really go with the Blue Jays because you could do that on a Canadian tour," Grigsby said with a laugh.
At the beginning of May, Grigsby scoured five team Web sites -- the New York Mets, New York Yankees, Baltimore Orioles, Boston Red Sox and Philadelphia Phillies.
Just in time for Father's Day in mid-June she found a week in early August that worked.
"It was exciting," Gilner said. "We had a lot of fun. Spending time with my daughter was part of it. There was a lot of one-on-one with her in those respects.
"I really just sat back and enjoyed the ball games."
Gilner already had been to old Municipal Stadium and Kauffman Stadium in Kansas City, Coors Field in Denver, Olympic Stadium in Montreal, Jack Murphy Stadium in San Diego and the Los Angeles Coliseum.
He even was at Oriole Park in Camden Yards in Baltimore the year it opened.
This time around, however, Camden Yards was part of a unique tour of East Coast ball parks.
Yankee Stadium
Aug. 7, 2004
New York 6, Toronto 0
Gilner flew into New York City on that Saturday. His daughter and son-in-law picked him up at LaGuardia Airport and they headed to the Bronx for the first stop on the tour. The Yankees and Blue Jays were playing that afternoon.
When they arrived at the American League stadium, Andy, Amanda and Joe found themselves in the midst of controversy.
Concession officials, for much of the season, were not selling Cracker Jacks. Instead, this summer they sold Crunch 'n Munch.
Luckily, Cracker Jacks were back on the concession menus when they attended the game.
"You can't take Cracker Jacks away," Amanda said. "That's ridiculous. No, the Cracker Jacks are a necessity at Yankee Stadium."
Amanda said that when "Take Me Out to the Ball Game" is played this season during the seventh-inning stretch, fans scream the lyrics "Buy me some peanuts and Cracker Jacks."
"I really liked Yankee Stadium because of the memorial," Gilner said.
On that day, Gilner also saw Orlando Hernandez pitch.
Their seats for the game were in right field. Interestingly enough, it worked out that their seats were in that location at all the parks.
Oriole Park, Camden Yards
Aug. 8, 2004
Baltimore 11, Texas 5
Gilner saw the Orioles host the Rangers, who could be in the playoffs come October.
Although Gilner already had been to Camden Yards, it still was one of his favorites.
"I liked Philadelphia as a new stadium, but I'd been to Camden Yards," Gilner said. "I like it because of the old railroad building in the background. It's a cool setting around the waterfront. It's a real neat place."
Amanda concurred.
"I have a major love for Camden Yards," she said.
Although Joe had to be out of town for the next week, he did attend the first two games on the tour with his wife and father-in-law.
"That was neat," Amanda said. "He's not a huge baseball fan, but it was still cool to have him be a part of it.
"It was fun to have Dad and Joe talk baseball. It was quite funny."
Gilner saw former Royal Jason Grimsley pitch for the Orioles.
That would be another ongoing theme -- seeing former Royals. He later saw Johnny Damon playing for Boston and Carlos Beltran in a Houston uniform when the Astros played the Mets.
Citizens Bank Park
Aug. 9, 2004
Colorado 4, Philadelphia 2
Seeing the Phillies play in Philadelphia helped Gilner accomplish an interesting feat.
He saw games at the youngest and oldest ballparks. Citizens Bank Park was built in 2004, while Fenway Park in Boston opened its doors in 1912.
Gilner liked Philadelphia and Baltimore because the football and baseball stadiums were close to each other.
The game allowed Amanda the chance to see her favorite mascot, the Phillie Phanatic.
Gilner purchased a pink cowboy hat to go with a Phanatic shirt he got for her at the game.
"He really is funny," Amanda said, referring to the Phanatic. "It was reminiscent of the days of the Chicken at the Royals games."
Amanda also was impressed with the park.
"I like the new park," she said. "That's the way ballparks should be."
Fenway Park
Aug. 10, 2004
Boston 8, Tampa Bay 4
Gilner finally saw the famed "Green Monster" in left field in Boston, but he noted that it was only 26 feet tall.
"When you're there, it doesn't seem as big as when you see it on TV," Gilner said.
Although he liked the more spacious seating at Citizens Bank Park in Philadelphia, the nostalgic Yankee Stadium and Fenway Park were treats as well.
Shea Stadium
Aug. 11, 2004
Houston 5, New York 4
The Astros-Mets game was the most exciting.
Houston and New York were tied at two until the Astros scored in the top of the ninth and held on for a 3-2 win.
Gilner liked how Shea Stadium was laid out. It's one of the few stadiums built during the 1960s and 70s still in use.
"Some were upset about it being outdated," Gilner said, referring to local fans. "I liked it in respect to how it was set up."
Possibly the most interesting thing about Shea Stadium was the trip there.
The trip to Boston took four hours, Philadelphia an hour and a half and Baltimore two hours.
The trek from Amanda's apartment on Staten Island to Shea Stadium in Queens took two and a half hours.
The next morning when Amanda took Gilner back to LaGuardia, which also is in Queens, the trip took about 25 minutes.
"As a driver's education instructor, I enjoyed sitting back and letting my daughter drive in New York traffic," Gilner said.
For Amanda, the five-day tour provided her with some special time with her father -- watching the sport she's followed for many, many years.
"Some of my fondest memories are of going to baseball games with my family at the Royals stadium when we were little," Amanda said.
"If we were good, in the sixth inning we would get ice cream in the little Royals helmet and then change into our PJs at the car to crash.
"I can't imagine my life without baseball."
Stadium food aside, Yankee Stadium provided plenty of other attractions for Gilner, such as Monument Park. The museum, just beyond the center-field fence, pays tribute to many former Yankees.