'

Old Nick' plays into local history
Mirror readers may wonder why, after all these years, a story is being written about Nick Marel.
Marel was a stonemason who came to the Tonganoxie area in about 1941. From then, until his death at the age of 98 in 1968, Marel became a local personality.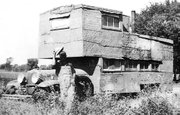 During his early years here he lived in a makeshift mobile home --a house that was built on top of a vehicle. He'd park his truck at whatever job site he was working on, and when that job was finished, maybe four or five years later, he'd move on.
His house on wheels was cobbled together, using various parts of old building materials.
But the homes he built were top-notch. A prime example is the stone house and two barns just south of Tonganoxie on the west side of U.S. Highway 24-40.
Then later, Nick began work on his own house, or "castle" as locals commonly referred to it at the corner of Fifth and Church.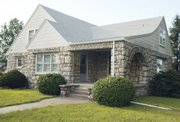 When Nick died, his house was unfinished, although there were enough rooms completed that Nick was living in it.
The Calla McAlexander family bought the house and finished construction, adding walls and roofs where needed.
Now, the McAlexander's son, Dave McAlexander, who lives in Kansas City, Kan., is remodeling the house. When completed, he plans to rent it.
This story was spurred in May simply by the sight of a "For Rent" sign in the yard of Nick's former house.
And as a reporter, I began wondering who Nick was, where he came from, and how a man who was building a "castle" that looked as if it had come straight from Italy's wine country had happened to settle in Tonganoxie.
That's when, in my column, I asked Mirror readers for input about Nick.
Before I arrived at the office on the day my column was published, there had already been a couple of phone calls with information about Nick. More calls, visits and sidewalk conversations followed.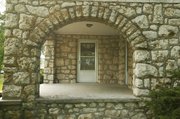 And, to my delight, one reader came up with a copy of a 1961 newspaper story in which Nick was interviewed. This reader, and another, brought photos of Nick. And amazingly, one of the photos, sent by Wanda (Davis) Bruggeman, showed something I never thought I'd see -- a photo of Nick standing beside his movable house. When I saw that photo, it became apparent that no one was exaggerating when they described "Tonganoxie's first RV."
This story, which will run in two parts, begins this week. And I thank Mirror readers for your interest and input. I think you know that without your comments, this story would have been only a couple of paragraphs long.
Filling a need
That said for the older days of Tonganoxie's history, I have a comment to make about the city's current business situation.
In the last couple of years we've watched new businesses come to town that duplicated services already available.
And all along, we've lacked a basic service -- a dry cleaners.
According to Ken Hayes, developer of the business area that includes Dollar General, a dry cleaning shop will be opened by Oct. 1 in his mini mall. The shop, which will be called "Value Cleaners," will be owned by Tonganoxie resident Ken Downing. And, it will offer same-day dry cleaning service.
Thanks to Downing for starting a new business that offers a particular service based on the town's needs.