Editor's note: This is the first of a two-part series on Nick Marel, a stonemason who lived in the Tonganoxie area from about 1941 until his death in 1968.
Every town has its legend.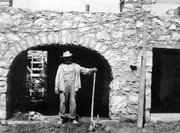 Tonganoxie has Nick Marel.
If you've ever driven down Fifth Street and wondered about the stone house at the corner of Fifth and Church, then you've already wondered about Nick Marel.
The house, or "castle," as locals refer to it, includes an exterior stone-lined canal that to this day drains water from surrounding streets during heavy rains.
Even when he was living, "Old Nick," as locals called him, was an enigma. A solitary man who could live off next to nothing. A man with the physical strength more than that of most men half his age. A man whose earlier life was elusive. Some said he'd been married and widowed before coming here. Some said he'd had a son somewhere along the line. Some said he was Mexican, some said Sicilian.
But whether fact or fiction, it's clear that although Nick died 36 years ago, while here, he chiseled his place in Tonganoxie's history.
A house builder in Tonganoxie said recently that it's unlikely, 50 years from now, anyone will remember who's building most of the houses in town today.
"But people will remember the houses that Nick built," he said.
Stories abound,/b>
In fact at any Tonganoxie gathering, if a question were raised about "Old Nick," chances are, a handful of people would remember him.
And they'd likely have an anecdote or two on the tip of their tongues.
This includes not only those who were adults when Nick lived here, but also those who were children.
Wichita outdoor sportswriter Mike Pearce, recalled that Nick usually had a pipe in his mouth. And, as a child, Pearce was impressed by the fact that often there was a smoldering cigar stuck in the end of Nick's pipe.
Kay (Emery) Soetaert, also a child in the 1960s, recalled that on Saturday evenings, when businesses stayed open late and the town took on a festive atmosphere, Nick would come to town wearing clean bib overalls -- complete Mike Vestal recalls walking by Nick's house every day on the way to and from school. Vestal remembers Nick's expertise.
"He was a heck of a stonemason," Vestal said.
Nick's quirks, his curious past and his esteemed reputation as a stonemason all play into why Nick is remembered today.
A late start
By some accounts, in 1941, when Nick began mining rocks from a hillside to build a dairy barn for Othal and Eva Wiley, he was getting up in years.
Nick was 73.
As it turned out, Nick was just getting started.
At the Wiley farm near Reno, Nick built a dairy barn, a livestock barn and a machine shed. By the time he cemented the last chiseled stone into place for the Wileys -- some four or five years later -- he had also built a house of stone.
Today Othal and Eva's son, Francis Wiley, and his wife, Donna, live in the house Nick built.
From the Wiley's house, Nick moved toward Tonganoxie where Ted Davis, a cousin of the Wileys', commissioned him to build a barn. As at the Wileys, by the time Nick finished, there were two barns and a house -- all made of stone.
These buildings are on the west side of U.S. Highway 24-40, just south of Tonganoxie.
Wanda (Davis) Bruggeman, who now lives in Sabetha, was a young teen when she watched Nick build her family's barns and house.
Nick's work impressed Bruggeman. Chuckling, she recalled how Nick quarried stone from the farm's hillside.
"He would hitch up a team of horses -- and in his day you could buy this sort of thing -- boxes of dynamite," Bruggeman said. "He'd go chugging up the hill with a wooden wagon and blow the holy heck out of that hill."
But Nick didn't always stir up such a commotion.
"He only blew up the hill, oh, maybe once a month," Bruggeman said.
A movable house
While Nick is remembered for the houses he built, he's also remembered for the portable lodging he lived in while he was building them.
In fact, locals still refer to Nick's cabin on wheels as "Tonganoxie's first RV."
"I think it was an old LaSalle," Bruggeman said. "He cut the back half off and built on this little house with a woodburning cookstove inside. The outside was made of what we now call the valuable tin ceilings."
John Lenahan, a lifelong Tonganoxie resident and local historian, also recalled Nick's house on wheels.
"He would take a portable sort of cabin on his flatbed truck and would live there until a job was done," Lenahan said.
Bud Laming, who now lives in Bentonville, Ark., recalls when Nick built the stone walls for his family's horse barn on Red Star Farm five miles north of Tonganoxie. Nick brought his house to that location, too.
"It was like a truck that the Beverly Hillbillies drove," Laming said. "It was a truck like that but he built a house on it."
Francis Wiley spent his teenaged years helping Nick build his family's barns and house. He too, easily recalled Nick's home on wheels.
"He had the first motor home that I ever saw," Wiley said. "He cut down an old Packard hearse and built him a house on it."
It was a traveling house.
"When he moved on, that old house went with him. He had a cookstove in there, it was tinned up and framed up and cardboard boxes were the insulation," Wiley said. "It would be colder than billy heck outside and you could just open the door and it would be snug as a bug in there."
Ed Kesinger was a teenager living near McLouth when Nick moved out to repair his family's horse barn. Again, Nick came with his own roof over his head.
"I remember waking up early in the morning," Kesinger said. "He'd be down there fixing his breakfast in his truck and the smoke would be rolling out of the chimney."
Nick didn't take any chances with his house.
"When he'd get ready to leave, he'd climb on the roof and he'd take the chimney down so it wouldn't blow off," Kesinger said.
Who was he?
Through the years, memories of Nick have, naturally, dimmed. Yet those who do remember Nick describe him in remarkably similar ways.
Nick is described as being about 5-foot-7, and, depending on whom is asked, of Italian or Mexican heritage.
"He always wore an old felt hat, overalls and a blue shirt," Jack Cronemeyer said. "And he smoked an old pipe."
And, say some who knew Nick, at the end of a day's work, he was known to indulge in a sip or two of rye whiskey, or his own homemade wine.
We have a vague idea, from descriptions and shadowy photographs, of what Nick looked like -- not very tall, sturdy build, olive complexion and dark hair.
The next question is, how did a Pennsylvania stonemason with -- from what those who knew him said -- an Italian, or Sicilian heritage, wind up in Kansas?
Bud Laming, for whose family Nick built the barn at Red Star Farm, later had Nick build a fireplace at his former home on Leavenworth County Road 1 about four miles south of Tonganoxie. During their long acquaintance, Laming and Nick had plenty of opportunities to talk.
"He left Pennsylvania because Pennsylvania passed a law that you had to have a driver's license," Laming said. "He moved to the next state, Ohio, and they amended the law to require a driver's license. He moved from state and when Oklahoma did the same thing, he moved to Kansas."
Apparently, although by about the time Nick arrived here, Kansas also required driver's licenses, he found the sunflower state to his liking.
Or perhaps he just decided it was time to settle down.
The old ways
In the days when construction was becoming increasingly modern, Nick stuck to his time-tested ways.
"He'd make a little hole in the sand, then he'd just dump the concrete in it and add a little water and start mixing it up," Laming said. "He never had a concrete mixer in his life."
Jack Cronemeyer, who has spent his life building houses in the Tonganoxie area, also recalled Nick's no-frills method. It was Cronemeyer's father, Ray Cronemeyer, who constructed the wooden part of the Laming's horse barn north of town.
"Nick didn't have a cement mixer," Cronemeyer said. "He'd put his cement in half of a 50-gallon barrel. Then he'd put the water in it and would sit down and smoke his pipe for a while and then he'd stir it up and use it."
Even today Cronemeyer admires Nick's work.
"Take his walls," Cronemeyer said. "Them things were about 18 inches thick. They started out that wide and they were still that wide when they got to the top."
And, Cronemeyer said, it was clear that Nick enjoyed working on the jobs more when he was allowed to incorporate arches into the design.
"Nick was good at laying the archways," Cronemeyer said. "The archways are all keyed in so they don't collapse."
Lone Star
It was the lack of archways that frustrated Nick when asked to build a stone cabin for the Charlie Stough family near the Douglas County town of Lone Star. Stough was a Lawrence attorney.
"Nick loved to make arches," said Stough's daughter, Sally Bartlett, who lives in Valley Falls. "He kept wanting to do arches in our cabin. But we didn't want arches. We wanted a very plain primitive cabin with a little flat roof and a little porch on it."
And, as when Nick started work on his other Tonganoxie-area projects, he was no spring chicken.
"He started our cabin at the age of 87," Bartlett said.
Although he brought two helpers, Bartlett said, it was Nick who actually put the stones in place.
"He wanted to be able to say he did it himself," Bartlett said.
While he was building the cabin, the family spent many hours with Nick.
"My dad found him to be fascinating," Bartlett said. "My dad just loved with a neck tie.
to talk to people and get to know unusual people and someone like Nick would attract him. But I don't know how he ever stumbled on Nick in the first place."
The house stayed in the family for years, but gradually, the family stopped spending the weekends there. Charlie Stough died in 1995, and about five years ago, the cabin was sold.
Connections
It was through the connection with Charlie Stough that a copy of a 1961 newspaper article about Nick wound up at The Mirror this summer.
Gladys and Harold Steffen lived across Fifth Street from Nick's "castle" in Tonganoxie.
The Steffens now live north of Jarbalo. But when Gladys Steffen read recently in The Mirror a request for information about Nick, she looked through her files.
She found a June 28, 1961, letter from Stough in which he thanked her for sending a copy of a Leavenworth Times story about Nick.
Using the date of Stough's letter, Gladys Steffen went to the Leavenworth library and located a microfilmed copy of the story, which she brought to The Mirror.
In living across the street from Nick, and in having him build the stone basement for their house, the Steffens came to know him well.
"He was as honest as the day was long," Harold said. "He never let the sun set owing anybody. If he had anybody working for him, he paid him off every night."
The Steffens, who moved into the house on Fifth Street in 1952, watched Nick progress on his own house.
"He was working on his own house and as quick as he got it above the ground he was living in it," Harold said. "He always said he would finish it on his 100th birthday, but he didn't quite last that long."
Nick slept in his house unfinished, and lived without modern amenities.
"He didn't have a telephone, he didn't have a radio," said Gladys. "But he took the Kansas City paper and if it was nice outside he'd sit there reading it the whole way through."
And, the only clock he owned was his watch.
"If his watch would stop, he would come over to see what time it was," Gladys said. "He would never knock on the door, he just would holler a little 'whoo whoo' and he'd just say he wanted to know what time it was."
Nick was generous, sharing homegrown produce with his neighbors, and offering to share home cooked meals.
"He liked to eat hot peppers and scrambled eggs," Gladys said.
Of course, he grew the peppers himself.
"He was a real gardener," Harold said. "He knew gardening. He even raised celery one time, and he bleached it."
One of those who'd stop by Nick's to buy vegetables was Connie Putthoff, who remembers that no matter how early she planted her garden, Nick's tomatoes always ripened before hers.
Harold Steffen recalled that even when Nick was in his 90s, he was particular about how he built his walls.
"He always said when you build a big wall you can use big rocks, and if you have a small wall you've got to use small rocks, or it don't look just right," Harold said.
When Nick was in his 90s, Harold went over to volunteer some help with the heavy work.
"And Nick just said no no, just go back out of the way. You're in the road," Harold said.
As long as the Steffens knew him, Nick was like that -- a simple man who took care of his own business.
"He was so common and he always wanted to do what was right," Gladys said. "He never expected a whole lot."
-- Look in next week's edition of The Mirror for the second part of a story about Nick Marel.