Back-to-back league titles?
Chieftains eye outright Kaw Valley League crown after tying De Soto last season
Most indicators point to the 2004-2005 Tonganoxie girls basketball team equaling last year's 17-5 mark.
With Tonganoxie's top two scorers in senior Addie Heim and sophomore Ali Pistora returning, coach Randy Kraft's third edition of Chieftain basketball has an encouraging outlook.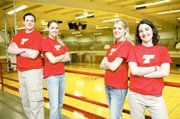 But for Kraft, the team's success boils down to one intricacy.
"This early in the season it's kind of about chemistry," Kraft said.
Tonganoxie returns experience in Heim and Pistora and other seniors in Maddie Weller, Laura Jeannin and Heather Deaver. But Tonganoxie lost five players to graduation -- Sarah Holliday, Kelly Breuer, Katie Jeannin, Michelle McWilliams and Amanda Chenoweth
"The seniors we lost are a big loss in leadership and the mentality in the team," Kraft said. "That will change."
Last year's team, Kraft noted, was "pretty mentally tough."
After getting off to a slow start last season as they played a difficult early schedule, THS bounced back. The Chieftains were 7-4 at one point in the season before reeling off 10 straight victories. Eudora snapped the Chieftains' long winning streak and breakthrough season by handing Tonganoxie a loss in substate semifinals.
When Tonganoxie opens this season at 6 p.m. Friday at home again St. Mary's, the Chieftains will have their sights on a state berth in Salina come March.
"I'm really pleased with what we have to work with," Kraft said. "We have a number of kids thus far who I think are going to step up and play."
The big question mark this season will be Tonganoxie's depth. Kraft returns five players who saw a good share of varsity action last season for the Chieftains.
In Kraft's first two seasons, Tonganoxie was fortunate enough to play with an eight- or nine-player rotation.
"We're looking to develop some depth," Kraft said.
Tonganoxie looks to be one of the top teams in the Kaw Valley League this year. Kraft pegged Santa Fe Trail as the preseason favorite. The Chargers return their point guard and two post players.
"They're the one to beat in the league," Kraft said. "If we play well, we should be right up there. But we have some questions to answer."
Tonganoxie will keep busy next week.
The Chieftains will play at the Central Heights tournament. Along with THS and Central Heights, Osawatomie, Burlington, Chanute and Wellsville will be in the tournament.
And don't forget De Soto. The Wildcats, who left the KVL for the Frontier League this season, tied Tonganoxie for first place in the KVL last winter.
"That will definitely give us a test in the tournament at Central Heights," Kraft said. "It's always going to be pretty tough."
Tonganoxie opens the tournament at 6 p.m. Tuesday against Osawatomie at the Ike Cearfoss Basketball Tournament.