New faces to complement veterans for
THS
When Tonganoxie basketball players step on the court in their season opener Friday against St. Mary's, some new bodies will be inside the Chieftain uniforms.
Yes, the team has plenty of seniors, but the Chieftains also will be looking to a strong sophomore class to help out this fall.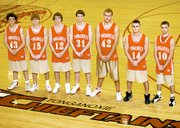 That's a strong class that has seen junior varsity time, but will be new to the varsity level. Some of those sophomores include Tyler Miles, Bryan Morris, Jordan Herron, Jeff Hughes, Jake Kraus and Michael Shaw.
"We lack a little bit of experience, as far as varsity games," said THS coach David Walker, who is in his fourth year as the Chieftains' head coach. "But I think you can take care of that with hard work and chemistry, which we have a lot of right now."
But don't be fooled. The Chieftains do have some experience -- and speed, according to Walker.
Senior Kirk Rodell was the No. 2 leading scorer on last year's squad, while fellow veteran Sam Mitchell also returns for his final season. Levi Huseman, who also saw considerable playing time, is another senior on this year's squad.
"Kirk Rodell and Sam Mitchell have the most experience coming back from last year," Walker said. "They lead you in lots of different areas.
"Michael Morris is playing really well. Levi Huseman is stepping it up."
At 6-4, Morris provides premium height THS. After sitting out his sophomore season, he returned last year as a junior and his expected to make an impact this season a senior.
Other seniors include Robert Kirch and Daniel Workman.
"We've got a lot of seniors this year," Walker said. "I like the leadership this year. It's been fantastic."
Walker sees his team as being a little ahead of schedule this preseason. Walker attributes accomplishing more in practice to that senior leadership.
THS will look to improve on last year's 9-12 mark that ended in the sub-state quarterfinals in a heartbreaking loss to Eudora.
Last year's squad, which included then-seniors Billy Baska, Shane Howard, Derek Sparks, Dustan Sprowls, Justin Walker, Luke McCarty and Ben Brest on the roster, saw six games decided by six points or less. THS went 3-3 in those contests.
On Friday, Tonganoxie will open the season on the earliest date since Walker has been at THS. The early December match-up will bring St. Mary's to Tonganoxie. The Chieftains beat St. Mary's last year in a mid-season make-up game. The teams were supposed to meet in the Central Heights Invitational early last season, but inclement weather postponed the game.
"They're very athletic," Walker said about St. Mary's. "They're scrappy and hardworking, very disciplined and well-coached. We're definitely going to have to be ready to play."
Tonganoxie then will head next week to Osawatomie for an early season tournament. Last year, the tournament was at Central Heights near Garnett, but nearby Osawatomie will run this year's invitational. Pairings for that tournament have not yet been released.
As for the Kaw Valley League, Walker expects Mill Valley to be the favorite to win what would be another league title for the Jaguars.
"Mill Valley is always going to be tough," Walker said. "We expect them to play real well."
Walker also expects arch-rival Lansing to continue in providing a "ferocious battle," while an experienced Piper squad, even without Leo Criswell, should be good.
"They'll be a team to watch out for," Walker said.