Play us a song, music man
Occasionally, when the mood hits and time is at hand, Duane and Cindi Porterfield will head to Tonganoxie.
And in the cozy comfort of Pammy Sue's restaurant at the corner of First and Main, Duane will unpack his dulcimer and banjo and fill the place with music.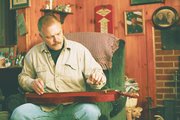 No, he's not a paid musician -- at least not there. He's just a friend who comes to call, bringing his ever-present musical instruments with him.
Pam Phillips, owner of the restaurant and a lifelong friend of Porterfield's, said customers who have heard him play have suggested she add on to her building to make more room for the musician. But right now, Porterfield, a Kansas City, Kan., police officer, has his hands full.
He's a narcotics and vice officer on the squad where he's put in 25 years, including his time as a cadet. In only eight more years Porterfield, who is 43, will be eligible for retirement. And then he wants to make music the rest of his life.
On the square
¢ Duane Porterfield is modest about his music, but trophies and plaques on his wall prove he's an award-winner.
¢ In mountain dulcimer competition, he was the 2002 national champion at the Old Time Country Music competition. He was named state champion in 2002 and 2004, and southern regional champion in 2003. In addition, he placed in the top five at nationals in 2002 and 2003.
¢ He's accomplished on the banjo, as well. This year, Porterfield was named Kansas state banjo champion, and he took second place in the national Old Time country banjo competition.
He and Cindi plan to move to Mountain View, Ark. To musicians like Porterfield who take joy in playing old-time mountain music, Mountain View is something of a mecca.
"Mountain View is unique," Porterfield said, describing the Arkansas town's courthouse square that has chairs set up on the lawn year round.
"People come out and sit on the courthouse square and just play," Porterfield said.
By "play," he's not talking games or sports. Porterfield's talking music.
He explained: "I can see myself retiring in Mountain View, Arkansas, sitting on the courthouse square all day long."
Family tradition
Other than the bagpipes, which he only took up recently, Porterfield is a self-taught musician.
He started when he was little, using his grandfather's harmonica to pick out tunes. In the morning light at the Porterfield's home near Piper, the harmonica -- his grandfather's original -- gleams on a living room shelf.
When Porterfield was about 10, he asked his parents for a guitar. They bought a starter model and said when he learned to play they'd buy a better guitar.
"I did and they did and it kind of progressed from there," Porterfield said.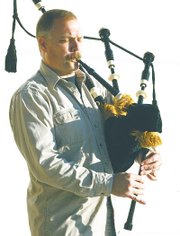 He smiles when he talks, and gives a steadied blue-eyed gaze at whomever he is talking to.
But when Porterfield puts the dulcimer on his lap -- he closes his eyes. His upper body moves with the music and he seems, somehow, mentally and physically to become one with the music he makes.
It's the dulcimer
For both Porterfield and his wife, who says she's not a musician, the dulcimer is their favorite instrument.
Porterfield explains how the dulcimer evolved in the Appalachian Mountains, a cross between stringed instruments brought to this country from Germany and Sweden.
In fact, Porterfield's personal attachment to the dulcimer goes back as far as he can remember. Four dulcimers hang on the living room wall. Three are McSpadden dulcimers, made in recent years in Mountain View, Ark. But the fourth dulcimer, weathered and worn, further links Porterfield to a musical past. It belonged to a man named Hodie Porterfield.
"This was my great-grandfather's," Porterfield said. "He lived in Arkansas and he traded a turkey for that. ... I remember him playing it, using a feather and a stick."
Playing the dulcimers, Porterfield said, helps him cope with the stress from his work on the police force.
"Everybody I know on the police department has some kind of a hobby or a sideline that they do to relieve the stresses and this is what I do," Porterfield said. "I especially like playing the dulcimer. I can go away. I love the way the music just lets you feel like you're back in that time. I go to the Ozarks or the Appalachians every time I play it. It's just so calming. And if I have a stress headache, I can play the dulcimer and it's gone."
Passing it on
Porterfield, and two others -- his brother, Dennis Porterfield and Les Crider -- make up a band that goes by the name of Hardtack.
Dennis plays a washtub bass, a bass instrument fashioned from a washtub, broomstick and string. Crider plays the guitar and mandolin.
The group performs at area events, with Porterfield acknowledging that they charge just enough money to help cover some of their expenses.
"We're doing it to pass on the music -- we're not making any money at it," Porterfield said.
But Porterfield is perhaps better known for the presentations he makes at area schools.
In special assemblies, he and Cindy teach children about music. They head to schools equipped with musical instruments, including a didgeridoo, which is a four-foot-long hollow branch of a eucalyptus tree.
"It's one of the oldest instruments known to man," Porterfield said, explaining it was used in Aboriginal ceremonies.
The didgeridoo makes a low hollow continuous drone, kept going by circular breathing, achieved by exhaling through his mouth at the same time he's inhaling through his nose.
Porterfield readily admits the didgeridoo's tone is monotonous.
"It isn't pretty," he said. "But it has a significance that you could explain to kids in a school setting."
Porterfield also demonstrates the Native American flute, the banjo, dulcimer, a carpenter's saw and bagpipes.
Of all the instruments he plays, the bagpipe was the hardest to learn.
An honorable duty
But he had a reason to be determined.
"We had an officer die in the line of duty," Porterfield said.
When a bagpiper was hired to play at his funeral, the police department decided to ask its own officers to learn to play the bagpipes.
"Fifteen officers came to the first lesson," Porterfield said. "There were two of us that stuck with it. It's hard and it takes a lot of dedication."
In fact, during the first six months of lessons, the officers learned their fingering by playing a chanter, which looks something like a flute. And then they started on the bagpipes.
"It's very difficult," said Porterfield, who noted a bagpipe's sound can carry five miles. "But it's also a big honor to be able to do this. The most honorable thing I'll probably ever do on the police department is to play those at a funeral for an officer that has been killed. Although it's the most difficult instrument I play, I'm glad I do it for that reason."
And, he plays at other funerals when requested, including military funerals.
"It's neat to stand up in the National Cemetery in Lansing," said Porterfield, who wears traditional bagpiper outfit, complete with plaid kilt and a feather bonnet. "You'll have people just stop and come over and watch -- it's chilling."