Televised report shocks business owner
To learn more about the story, also read "Behind the scenes: How the fertilizer story unfolded"
Last Wednesday night, Bill McGraw stayed up past his bedtime to watch the 10 o'clock news on KCTV Channel 5.
What the 80-year-old Tonganoxie farmer thought he'd see was an interesting feature that mentioned his longstanding fertilizer business.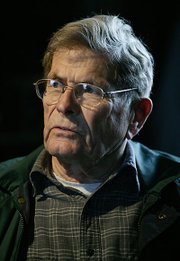 Instead, he saw a broadcast that wrongly depicted McGraw's business as an irresponsible company that would sell ammonium nitrate -- in huge quantities -- to anyone who came along.
Ammonium nitrate was one of the ingredients used in the April 19, 1995, bombing of the Alfred P. Murrah Federal Building in Oklahoma City.
The ammonium nitrate used to make this bomb was purchased in Kansas.
In the wake of that act of terrorism, Kansas laws changed. It is now illegal to sell packaged ammonium nitrate.
But agricultural producers may buy it in bulk for their crops. And, ammonium nitrogen is a common ingredient in lawn fertilizer blends sold at retail businesses.
The broadcast showed file videotapes from the Bureau of Alcohol, Tobacco and Firearms of explosions from ingredients containing ammonium nitrate.
"Ammonium nitrate," said KCTV 5 reporter Dave Helling. "It's a cheap and common fertilizer and when mixed with diesel fuel in the right proportions ... it could cause an explosion."
Helling claimed his crew found it fairly easy to obtain ammonium nitrate.
"Six stores actually told us no, but it only takes one," he said. "McGraw Fertilizer ... sold us all we wanted."
That's when the camera zeroed in on the rural Tonganoxie business. The only time McGraw is shown on camera is when he says the 20-10-10 fertilizer blend will burn, but will not explode. That's followed by Helling saying, "But he's wrong. Experts told TV 5 that the ammonium nitrate bought from McGraw can be made into a bomb. Remember, we bought 500 pounds."
However, in numerous calls by The Mirror staff, no "experts" were found who agreed the fertilizer would be an effective explosive.
Not what it seemed
After seeing the newscast, McGraw, who was expecting to see a feature story about his lifetime's work, felt sick. It was obvious, he said, the broadcasters set out to make someone look bad, and because they happened to buy their product -- a common blend of lawn fertilizer -- at McGraws, Bill McGraw took the heat.
"I was sick at noon," McGraw said Thursday afternoon. "I was sick to my stomach just thinking about it. I'm thinking that maybe the FBI could walk in the door because it's against the law to sell ammonium nitrate. He (the newscaster) said he'd bought it here -- he didn't say he bought 20-10-10 -- he said he bought ammonium nitrate."
The fertilizer is a common blend, containing 20 percent ammonium nitrogen, 10 percent phosphorous and 10 percent potash.
McGraw, who's lived in the area all his life and sold fertilizers since 1963, was heartbroken. Dorothy Lean said the broadcast was not what they'd expected. Before the segment aired, she and McGraw had joked about being movie stars.
"This man has been in business forever," Lean said. "He had one time he was going to shine (on television) and they destroyed him -- they destroyed this man with this show last night."
Best for the lawn
Because of the Oklahoma bombing, and threats by terrorists, it is difficult to find experts willing to say -- on the record -- what will and will not explode. But on Friday, a federal official who had seen the broadcast, agreed to comment anonymously.
"It was a cheap shot," he said of the broadcast. "If a terrorist was going out to buy some stuff to make a bomb, he would not be buying 20-10-10. ... It was a total cheap shot on the guy they bought it from."
Kent Harris, assistant Olathe fire chief, agreed, saying the 20-10-10 fertilizer bought by a Channel 5 reporter would not be efficient to use in making explosives.
And Leavenworth resident Leroy Seifert, who owns a lawn business, was irate.
When the broadcast aired a close-up view of the fertilizer, Seifert noticed the grains were three colors. That told him he was seeing was a blend used for fertilizing lawns -- not straight ammonium nitrate.
"I told my wife there ain't no way in hell that would build a bomb," Seifert said.
He e-mailed KCTV 5 news anchor Dave Helling.
"I told him I don't know where they got the information but there was no way that would make a bomb," Seifert said.
And, he added, Helling replied.
"He said experts said that it would make a bomb," he said. "I'm here to tell you there ain't no way -- there's too much phosphate and potash in it."
As of Tuesday afternoon, Helling had not responded to The Mirror's telephone and e-mail requests for comment.
Make it right
McGraw wants to clear his name.
"They lied," McGraw said quietly, his voice shaky. "... We checked with the fertilizer company and that stuff is not explosive. It will burn, but it will not explode."
His son, Mike McGraw, agreed.
"They need to make an apology or say the product they put in the back of the pickup was not straight ammonium nitrate," Mike said. "They need to tell the truth -- they purchased a lawn fertilizer."
The family is pondering whether to seek legal action.
One man who's also recently experienced Channel 5's reporting is Leavenworth County Attorney Frank Kohl.
A Nov. 10 broadcast zeroed in on Kohl, alleging he'd been using his computer at work to view pornography -- for personal reasons. Kohl said he'd checked out certain Web sites as part of investigations related to his work.
Kohl didn't see last week's broadcast about the fertilizer sales, but said he wasn't surprised.
"Basically, what they're trying to do is they're trying to make news instead of report news," Kohl said.
Where Kohl, as a public figure, had little recourse, a private person, such as Bill McGraw, might.
Kohl acknowledged it's likely television stations believe viewers like this type of reporting -- and that it helps boost their ratings.
"Like the back fence gossip, so to speak," Kohl said. "It has nothing to do with the truth, it's just because it sounds good -- sounds juicy."