Memories of Christmas
60-year-old photograph helps forge transatlantic friendship
It wasn't snowing that Christmas Eve in Corsica.
But a midnight Mass in Migliacciaru reminded John Lenahan of Christmas back home.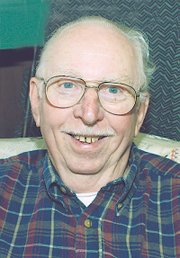 It was 1944 and Lenahan, a young man serving in the U.S. Army Air Corps, and some of his buddies went to church. The group was stationed on the French island during World War II.
"We didn't have a chaplain, so we went to the village churches wherever we were on that island," Lenahan recalled.
While the songs were predominantly Latin hymns, Lenahan and five other serviceman were allowed to sing Christmas carols and hymns, including one of his favorites, "Silent Night." The servicemen stood around a piano while another serviceman played the piano.
That's when someone snapped a photograph that today, 60 years later, links Lenahan to a newfound friend.
For decades, Lenahan kept the photo, which also showed some of the people sitting in nearby pews. A couple of the men in the pews were German prisoners of war, Lenahan said. Others were residents of the town. Lenahan said he would look at the photo every now and then and remember that Christmas Eve in the little church in Corsica.
In the summer of 2003, Lenahan sent the photo to the editor of the magazine for the 57th Bomb Wing Quarterly. He was hoping it would spark some communication with the other men in the photograph, if they were to see it. The magazine published the photo in the fall 2003 edition.
So far, Lenahan hasn't heard from the servicemen in the picture. But last month Lenahan, who operates a hardware store in downtown Tonganoxie, came home from work and heard an unfamiliar voice on his answering machine.
The caller was Dominique Taddei, who lives in Corsica. Taddei told Lenahan he had seen the magazine with the Christmas Eve photograph, and was amazed to see his own picture in it. When the photo was taken, Taddei was 6 years old.
"He was really elated when he found out he was in that picture," Lenahan said.
But this story is about more than a chance photograph published in a magazine.
Doing research
For the past 10 years, Taddei, who is a retired Air France airline steward, has been researching the American troops, and the U.S. Army Air Corps during their service on the island of Corsica.
Taddei lives in Migliaccuaru, which from April 1944 to April 1945 was the headquarters of the 57th Bomb Wing.
Taddei said he has often been asked why he took on the task of doing the research.
In an e-mail to The Mirror, Taddei wrote, "I am not an historian, I am not a teacher, I have never been (a) graduate."
But something compelled him not only to do the research, but to write a book about it.
Taddei continued, "I think that the photo taken in 1944 in this church is certainly a message coming from heaven and some big boss in the sky with the complicity of my Mam pushed me to be the man in charge of this job and this destiny was already decided that night of Christmas Eve in 1944.
"Today a book has been published, a memorial tablet has been raised (June 1997). Call this ghosts, spirits, one thing is sure -- when I saw this photo, I realize that my heart was very strong because the emotion was intense.
"I think that I have realized the wish of a crew chief writing, 'Dominique don't let die our history with us.' Be certain that this Christmas will be important for me because 60 years ago I was with some men of the 57th Bomb Wing in the church of my village and today I am an associate life member of this association. Don't you think that all this is a real mystery? Merry Christmas!"
Pleased with pen pal
"I could easily hear the excitement in his broken English when he called me," Lenahan said. "Our presence in this country (four large airfields and supporting units) had a lasting effect on the entire population of this small island country, to say the least. We Americans were their liberator and friends. ... By submitting this picture of 60 years ago, I have made a Frenchman very happy, and me too."