Holiday houses
Tonganoxie woman builds dollhouses
By Lisa Scheller
lscheller@newsmwc.com
A Tonganoxie woman decorates not one house -- but two -- for the holidays.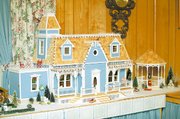 Coleen Spain strings the lights across the roof of one of the houses, needing no assistance from her husband, Bill.
That's because she's sitting safely in her dining room, adding the Christmas lights and trim to a doll house.
The two-story blue house is a late 1800s Victorian farmhouse, Spain said. The house is completely furnished, with many of the items made by Spain. For instance, three room-size petit point oriental carpets, as well as a crocheted rug are her handiwork. She's made furniture, from scratch and from kits. The house has as much, if not more, furniture than a real house. The kitchen includes a wood-burning range, kerosene lanterns, a rolling pin and even a cat that sits on the window sill. And the children's bedroom includes two things that Spain dreamed of having when she was a child -- a teddy bear and a doll house.
"When I was a little girl, I always wanted a teddy bear and a doll house," Spain said. "I never got either one. My mother thought I needed dolls -- I got a doll every year."
About 15 years ago, Spain finally wound up with a doll house to go with her dolls.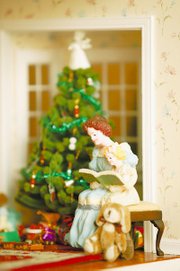 Her mother had been given a kit to make a doll house.
"She started to put it together and decided it was too much work," Spain said. "So she gave it to my sister. And she decided it was too much work -- she asked me if I wanted it."
That came with even more of a learning curve than Spain had imagined. The house had undergone several attempts at construction and, even worse, the directions had been lost. Parts of the house were damaged and some of the wood had warped.
Moreover, the house was in need of a new interior designer -- a role Spain would lovingly step into.
"The wallpaper was all yellowed from my dad's smoking -- it looked really bad," Spain said. "I went in and re-did the wallpaper and repaired some of the little glitches in it, painted the insides and put some trim on."
It may sound simple now, but that was all part of the five-year process of rebuilding the doll house.
The house had been dismantled for shipping.
"I put up the basic house, glued all that together, did the walls and floors," Spain said. "Then you start on the trim."
It just took a couple of weeks for her to put up the walls and floors.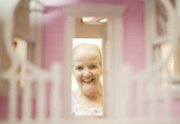 "Then the trims and the roof and all that took the next five years," Spain said, her eyes bright, her smile enthusiastic as she talked about the project.
The work even included a room add-on. The house had not been built with a bathroom. So, she added a room to the side and installed the necessary plumbing fixtures.
Bill was his wife's right-hand man during the process.
One of his jobs was to cut the pieces of wood. His wife is particular, he said.
"It had to be exact," Bill said. "She had to have everything cut just so. If I was a hair off, I had to re-cut it."
Coleen nodded pleasantly and said, "It had to be exact, if it wasn't exact it didn't fit."
The experience actually came in handy when the Spains recently decided to add a large front porch to their house.
Having picked up some pointers about construction through building her doll house, Coleen confidently drew up the porch plans. And, she kept track of the workers' progress.
"I told them how to do it," Coleen said. "And if they didn't do it right they had to re-do it."
The completed doll house, which weighs at least 100 pounds, has its place in the Spain's dining room.
And down the hall, in a bedroom converted into a room resembling Santa's workshop, Spain's progress continues.
She's making another house.
This one, she said, is a painted lady. It's a narrow three-story Victorian home such as those along a San Francisco street. And painted it is, with bright pink siding with a generous dash of white gingerbread.
Spain has been working on the purchased kit for about six months.
"I've got most of the framing done," she said modestly.
And will this house take five years, as well?
"I hope not," Spain said, chuckling. "I pretty much know what I'm doing now. With the blue one I didn't have a clue."
The dearth of directions on the first house didn't help, but it didn't stop her either.
"I didn't have directions except for putting together the base," Spain said, chuckling. "And for the trim -- it just said have fun trimming it -- so I had fun."