Firefighter killed in vehicle accident while responding to wreck
Wreck that officials were headed to involved 17-year-old Basehor teen-ager
Jared Moore, a 19-year-old firefighter for Fairmount Township Fire Department, died early Wednesday morning after his vehicle was struck by a patrol car driven by a Leavenworth County sheriff's deputy.
Both vehicles were on their way to an accident on Donahoo Road, said Chuck Magaha, who is the county's director of emergency preparedness and a Fairmount Township firefighter.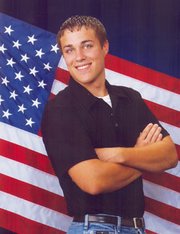 The accident they were responding to occurred at 11:57 p.m. Tuesday. Rachel L. Miller, 17, Basehor, was driving east in the 15800 block of Donahoo when she lost control of the vehicle. The vehicle entered a ditch and rolled over numerous times before coming to a rest on its wheel. Miller was ejected from the vehicle and taken by air ambulance to the University of Kansas Hospital. On Wednesday, officials at the hospital could not release Miller's condition.
According to the Kansas Highway Patrol, both vehicles involved in the fatality were driving north on 155th Street. Just after midnight, the 1994 Dodge Shadow driven by Moore had slowed and was attempting to turn left onto Donahoo Road when the sheriff's car, driven by Deputy Robert Peterman Jr., struck Moore's car from behind. Magaha said Moore, who was unconscious at the scene, later died at the University of Kansas Hospital in Kansas City, Kan. According to the accident report, Moore's seatbelt was not fastened.
Peterman, who had been wearing his seatbelt, was taken to Cushing Memorial Hospital.
Magaha said Moore had started on the department in August.
"He was a real good firefighter," Magaha said. "He was real ambitions and very eager to learn. He was wanting to seek it as a career opportunity."
Magaha said the last time a Fairmount Township firefighter died while responding to a call was in August 1975.
"Barney Eberth was trying to hop a ride on a fire apparatus as it was going by," Magaha said. "He slipped off and was run over."
For more on this story, please see the Jan. 5 issue of The Mirror.