Couple switch branch of service
After stint in Marines, Tonganoxie residents enlist in
U.S.

Air Force
After two years of civilian life, former U.S. Marines Shannon and Ray Phillips have decided to enlist again.
This time, the husband and wife are enlisting not with the Marines -- but with the Air Force.
"The Marine Corps is really a good experience," Shannon said. "But it's hard to start a family. So, we thought about the Air Force ... it's more family-oriented."
And the young Tonganoxie couple -- Shannon and Ray, both 25 -- are looking ahead to their retirements.
"Our four years with the Marines are transferrable," Shannon said. "So we thought if we serve 16 years in the Air Force, we can retire -- it's a great opportunity."
This is better than starting from scratch, Shannon said. Both will start with the same pay rate as in the Marines, she said.
"And luckily, we were able to keep our rank instead of having to start out at the bottom again," Shannon added.
Ray, a 1997 graduate of McLouth High School, and Shannon, who grew up in Basin, Mont., met in the Marines when they were stationed at Marine Corps Training Center, Twentynine Palms, Calif.
It's hard to picture Shannon, who has a sweet shy smile, a whispery soft voice and a wispy fringe of light brown bangs, as a Marine. And it's even more of a stretch to envision her working as a diesel mechanic. But that's what she did in the Marines, and it's how she met her husband, Ray, who operated large trucks.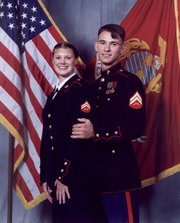 "When the trucks would break down he would have to bring them down to my shop to be worked on," Shannon said. "I always met him down there -- I told him, 'Quit breaking the trucks because you make more work for me,' and he just kept coming around."
At that time, Shannon was set against marrying a Marine, in part because her stepfather, a former Marine, had joked with her about the probability of her marrying one.
"I kept putting Ray off for a little while," Shannon said, laughing. "But he wouldn't go away so finally I just gave in."
Leavenworth Air Force recruiter Tech. Sgt. Marty Baumbach agreed that at first Shannon didn't strike him as a typical Marine.
"I had no idea she was a former Marine," Baumbach said. "Her professionalism is very Marine like, but that's not her demeanor."
Both Shannon's and Ray's records from the Marines were "outstanding," Baumbach said.
And, he added, it's not all that uncommon to switch branches.
"They had been out of the Marines for a little while and they missed a lot of what the military in general had to offer," Baumbach said. "Of course they knew at that point what the differences are and they were able to make a really informed decision."
More training
Now, along with the military switch, Shannon and Ray are changing the type of work they do in the military.
In the Air Force, Shannon hopes to become a nurse.
Likewise, Ray was an operator in the Marines. Since late December, he has been stationed at the Air Force base in Port Hueneme, Calif., where he is training in the special vehicle maintenance school.
Shannon said she knows all too well that military life, which will mean living at times in different locations, can be trying.
She first learned that in fall 2000, after the couple had dated for 2 1/2 years, and Ray was sent to Okinawa, Japan. Shannon remained in California. The couple were engaged but not married.
"He was gone for three months and I just decided I couldn't make it without him," Shannon said. "I talked to my sergeant and within about a week I had orders to go overseas."
She arrived in Okinawa in October 2000. A month later the couple married, with Shannon wearing an Okinawa-style wedding gown.
About a year later, within a period of three months, both completed their four years of service in the Marines.
They headed for Kansas, staying with Ray's parents, Otis and Pamela Phillips, in McLouth, until buying a home in Tonganoxie.
Pondering her future
Last May, Ray decided to sign up for the Air Force. It took Shannon several months to decide to follow suit.
"I waited a little while longer just because I wanted to make sure that's what I wanted to do," Shannon said.
She thought about the children she hopes they someday will have.
"If we served 16 years and we're able to retire, then our children will have the experience of seeing different places and then of having us there for most of the time, too," Shannon said.
With the Marine experience under her belt, Shannon said she believes the Air Force will seem easier.
Obviously, she said, Marines are expected to be tougher.
She recalls the lonely weeks of Marine boot camp. All she wanted to do was call home and cry on her mother's shoulder. Her mother, Daleen Tacey, lives in Basin, Mont.
"The Marines only have time to train you and they don't have time to afford you the opportunity to cry when you needed to," Shannon said. "You dare not do that. But sometimes, I wanted to, and I'm pretty sure I did at night."
Even then she didn't regret her decision to join, she said.
"But there were certainly some times when I was wondering how I was going to do it," Shannon said. "But somehow you just got through it and seemed to make it and then you moved on to the next big thing."
After months of waiting, Shannon received her orders last Friday. She's scheduled to begin working in May in a financial records office at Shepherd Air Force Base in Texas.
"I'm excited," Shannon said. "I wish I had a better word than excited because I am totally thrilled."
And, she's ready to go. The couple's house is on the market and they've sold most of their furniture.
The dangers
As all military personnel know enlisting in the Air Force is not just about an early retirement.
It could be about something far more serious. After all, there is a war going on in Iraq. Soldiers are dying daily.
Could there be the possibility that she could be sent to Iraq, or to some other place just as dangerous?
"There's always a chance. We don't know when or where or how they'll do it, but anybody in the military will tell you there's always a chance. It just kind of comes down to what they need you for or what comes up in the country at the time."
Shannon paused in thought before continuing, "Hopefully not, nobody would like that, but in the military that's what you sign up for -- essentially, that's what you're there for."