4A substates will be in Lansing
Tonganoxie basketball teams will head to Lansing if they advance past the first round of their substate tournaments in early March.
The Kansas State High School Activities Association announced recently that Lansing will be one of eight sites for this year's substate action. Altamont-Labette County, Anthony, Chapman, Royal Valley (Hoyt), Louisburg, Mulvane and Ulysses also will be Class 4A sites.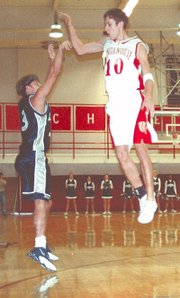 Joining Tonganoxie at substate March 4-6 will be Basehor-Linwood, De Soto, Eudora, Bishop-Ward, Piper, Sumner and Lansing.
First-round games will be played at the home of the higher-seeded teams and semifinals and finals will be played in Lansing.
The Lansing boys will look to repeat as substate champions on their home court. Last season, the Lions won substate in Holton.
Tonganoxie also was in that substate, but couldn't advance past the quarterfinals after losing to Lansing on the road.
Lansing is the only team in both boys and girls brackets to make a state appearance last season.
This year's bracket will be filled with two new faces. Bishop-Ward and Sumner are Kansas City schools the Chieftains haven't drawn for substates in recent years. And although Basehor-Linwood, De Soto and Piper are Kaw Valley League foes, none was in the Holton substate last year. As for Eudora, the Chieftain boys see the Cardinals regularly in the Tonganoxie Invitational Tournament.
The Tonganoxie girls won't see Eudora at the first annual girls Tonganoxie Invitational later this, but also could face KVL foes or the Kansas City schools at substate.
The Chieftains played host to a first-round game last year during substate, but fell to lower-seeded Atchison.
Both Tonganoxie teams resumed the regular season Tuesday against De Soto and again will be in action Friday in Lansing. The Chieftains and Lions square off at 6 p.m. for the girls game and 7:30 p.m. for the boys contest.
At the winter break, the girls were 3-2 and the boys stood at 2-2.