Winds blast through Tonganoxie area
Linda Hemphill knows how close her family came to tragedy's strike.
Early Monday morning when 60 mph to 70 mph straight-line winds pushed through Tonganoxie, Hemphill's daughter, Belinda Pettit, and grandson, Jadon Pettit, 4, were asleep in Hemphill's bed when a wooden pole crashed through the wall above their heads.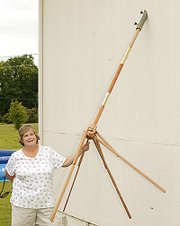 "I heard this thunderous noise," Hemphill said. "I sat upright in bed immediately."
And Belinda soon called to her.
"She was so frightened, it took her a minute to even scream out my name," Hemphill said.
She ran to the bedroom.
"Belinda was trembling, holding her baby," Hemphill said. "She was sitting up in bed trying to get the fiberglass out of his hair."
Hemphill was shocked to see the pole sticking through the wall. They didn't know it then, but on the outside of their house was the rest of the pole, which appeared to be the top of a pole that would support a large outdoor umbrella.
¢ Tom Norman, who keeps rainfall statistics for the National Weather Service using his rain gauge six miles southeast of Tonganoxie, said 2004 has been wetter than 2003. Here's the scoop
¢ 2004: January through July 5 -- 22.42 inches.
¢ 2003: January through end of July, 17.37 inches.
Tuesday morning Hemphill gazed out of the bedroom window.
"I just wonder how far it flew and where it came from," said Hemphill, who lives near 12th and Bury in Tonganoxie.
While she's thankful her daughter and grandson were unharmed, there's another side to the story.
Hemphill suffers from asthma. Normally, she would have slept in that same bed. It's an adjustable hospital bed her father used to use.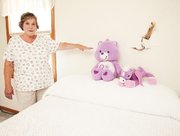 "I usually have the head end up so I can breathe better with my asthma," Hemphill said. "I guess it was a godsend. It could have been a tragedy if I had been in that bed with the head raised."
Michael Hudson, meteorologist with National Weather Service in Pleasant Hill, Mo., said he understood Hemphill's concern.
"I'm sure it was a rude wake-up call, to say the least," Hudson said Tuesday morning.
The severity of Monday's early thunderstorms were obvious.
"The line of storms that came through did pack winds of up to 60 to 70 miles per hour." Hudson said. "Over a fairly widespread area across Leavenworth County there were numerous trees uprooted and quite a bit of wind damage -- although that's the first we've heard of something being projected through the wall of a house."
When Hudson teaches storm spotter training classes he emphasizes the dangers of straight-line winds.
"Whether they're spinning or blowing straight at you, when you get up in the 70 mile per hour winds you can run into flying debris," Hudson said. "It doesn't just take a tornado to do damage. Winds themselves can be quite destructive."
Hudson urges everyone to pay attention to thunderstorm warnings.
"Treat it seriously," Hudson said. "Make sure that you are in a good sturdy structure and away from windows."
And, particularly listen for the term "hurricane force winds." A Category 1 hurricane has winds of 74 to 95 mph.
"Those are events where you probably want to start taking storm precautions," Hudson said. "The damage that can be caused in these storms can mimic those of a tornado, so you'd better be safe than sorry."
A storm struck Tonganoxie early Tuesday morning, dumping two inches of rain in some areas. Hudson said more storms could roll into the area as soon as Saturday. If they do, Linda Hemphill will likely take them more seriously than ever.
"It's kind of a warning to people in this area that even though it's not a tornado, those high winds can project things through the walls," Hemphill said.