Ted Grinter estimated that by the time Friday's sun set, the family would have loaded about 100 buckets of sweet corn onto the pickup truck. That's at least 1,000 ears of corn.
It's not just any old corn.
Watch for snakes.
Never go near a cornstalk that has bees on it.
To pick the corn, pull the ear down and twist.
Never pick corn that has white silk because those ears are too young.
If it has a little bit of white it's OK to eat, but I would always wait till the next day.
Always wear old shoes.
Always wear long pants, no shorts or capris.
Always wear tough boots because there might be snakes and you never want ticks crawling up your legs and then there's always chiggers. If you don't want to take a chance, wear long sleeves, long pants and boots.
"It's 70-day corn," Grinter said. "Ambrosia, yellow and white, super sweet."
As if on cue, Sidney, who is 10, picks an ear from a cornstalk, unwraps the husk, removes the silk and, holding it like a harmonica, takes a bite. She keeps at it until all the kernels are gone.
"Here," have one, says Callie, who has taken cover under a tarp that shades the ears of fresh-picked corn (and Callie) in the back of the pickup truck.
She proudly flourishes an ear of corn, reminiscent of the Statue of Liberty bearing her torch. Callie unwraps the ear and hands it to me.
"Eat it," she said.
Although I thought the corn would be much better later on, cooked and buttered, I just couldn't say no to Callie.
I took a bite. It was moist, sweet, tender, and I must agree with the girls -- delicious.
"Here," Callie said after I ate the ear clean, "Take another one for later."
Again, Callie's request wasn't to be denied.
Sidney Grinter knows all about picking corn.
"Don't worry," she tells visitors at her family's corn field near Reno. "Buddy will shoo all the snakes away."
Buddy is her dog who frankly, seemed more comfortable in Friday afternoon's heat stretching out in the shade of a car than scaring any snakes.
But if you do come across a snake in the field, according to Sidney, who is just about the same height as the cornstalks, it's likely to be a corn snake.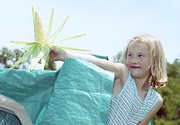 "They are yellow and orange and they are about three feet long at the most," said the budding herpetologist. "But they are not poisonous. They are only deadly to mice or rats."
She explains that corn snakes, also known as red rat snakes, constrict their prey.
"We also have black snakes here, and if we're not lucky, there might be a rattlesnake," Sidney added. "In fact we'll be lucky if we only see one snake and if we're really lucky there won't be any."
Day's end
Moisture from a recent 2-inch rainfall steamed from the earth, drawn upward in the heat of noonday sun. It was a sweat-drenching hot and muggy day in the cornfield. But Sidney, her sister, Callie, 7, and their friend Bryson Hewins, 10, didn't seem to mind.
As they picked corn with Ted Grinter, who is Sidney and Callie's father, Sidney recited the do's and don'ts of picking corn.
Her knowledge comes from experience.
"I've been picking corn since I was 4," Sidney said.
And, she and Callie also help their parents market the corn. During the week they take a pickup load to town and go door to door, selling their corn at local businesses. On Saturdays they're regulars at the Lawrence Farmers' Market. And if they have extra to sell, they'll find a shady spot along a highway and set up shop on the back of their truck.
It's just starting
For the family, the busy season of sweet corn has only just begun.
Grinter said the three acres that he stagger-planted from April 17 through April 30 will yield about 60,000 ears of corn. While family members chip in, Grinter also hires others to help pick the corn.
While some might shudder at the responsibility of picking some 60,000 ears of corn in a three- to four- week time frame, Sidney has a down-to-earth way of looking at it.
With sweat glistening on her face, and chiggers already nipping at her ankles, she said that Fridays -- when the family is preparing for Saturday's farmers' market -- are especially busy. And sometimes, at the end of the day, it's the simple things that count.
"If we're lucky and we do it fast," Sidney said, "We can get home early and take a bath."