Fire erupts in truck carrying diesel fuel
Two highways temporarily closed
Black smoke plumes billowed hundreds of feet Tuesday morning as a tanker truck carrying 1,700 gallons of diesel fuel and oil burned on Kansas Highway 32 near U.S. Highway 24-40.
Several explosions sent balls of flames 50 feet in the air, but for much of the first hour after the fire started, officials countered the inferno with a single hose.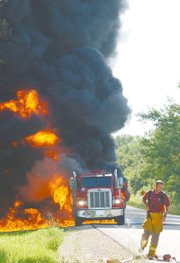 "Basically right now we don't have enough water," said Major Ken McGovern of the Douglas County Sheriff's Office.
The blazing truck, which rested 25 to 30 yards from a natural gas pipeline, ignited nearby ditches. Meanwhile, officials from the Douglas County Sheriff's Office, the Leavenworth County Sheriff's Office, the Kansas Highway Patrol, Lawrence-Douglas County Fire and Medical and Wakarusa Township Fire and Rescue regulated the scene. Emergency crews made several three-mile trips to Lawrence for water.
The driver, Richard Kramer, McLouth, pulled over shortly before 9 a.m., when smoke filled the cab of the year-old "lube truck," a service vehicle he was driving for King's Construction, Oskaloosa. Kramer was not hurt, but the $100,000 truck was a total loss, said Jennifer Best, the company's office manager.