Lopers, Red Raider and Chieftains, oh my
Several instructors guide youth at camp
Jeff Sylvester keeps busy this summer teaching youth about a sport he knows a little about.
The Nebraska-Kearney wrestler was the NCAA Division II national champion last season in the 197-pound class.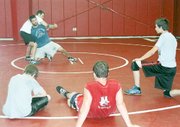 In the summer months, however, he's instructing young grapplers at wrestling camps rather than pursuing a national title.
"It's what I do," Sylvester said about the summer camps. "It pays the bills.
"It's fun."
Sylvester worked alongside Tonganoxie High coach Jeremy Goebel, Wamego High coach Brad Ewing and UNK teammate Gabe Re at the first Tonganoxie wrestling camp last week. The instructors helped about 20 local wrestlers ranging in age from 5 to 18.
Thursday morning in the THS fieldhouse near Beatty Field, the coaches and collegiate wrestlers helped youngsters ages 5 to 13 with fundamentals.
"Three hours for the young kids is a long time," Re said about the camp sessions. "At this stage, you just want to make it fun. We play a lot of games."
One of the more popular games was dodgeball, although campers also played some wrestling-oriented games.
Re, a national qualifier when he was a freshman at a South Dakota school, now is a redshirt junior at UNK. A high school standout in Albuquerque, N.M., Re was an undefeated state champion as a senior and a four-time state qualifier overall. The UNK junior said he and Sylvester have been doing most of their camps in Nebraska, but their first in Kansas was worth the trip.
"Actually, for a small town, there were a lot of kids who turned out," Re said.
For Ewing, who will enter his first year as Wamego's coach this winter, the Tonganoxie camp was a change of pace.
A Phillipsburg native, Ewing has helped with camps across the nation that range from 225 to 300 in participants. Ewing had been working camps this summer at the University of Minnesota, along with others in Pennsylvania, Iowa and Nebraska.
"It's a lot smaller and real laid back, so it's good to work with the kids individually."
Goebel took many of his high school wrestlers to a camp in Kearney the week before the Tonganoxie camp.
Ready for his third year as the Chieftain coach, Goebel said the camp illustrated several techniques and moves to the youths, including some moves the younger campers were learning for the first time.
One move, the twister, was the most popular, Goebel said. It's a move Sylvester used to pin 22 opponents last season. It involves putting the foe in a full headlock and then rolling him through.
Whether the young wrestlers employ the twister or another move, Goebel hoped the campers can use the techniques they learned at camp.
"If they can carry away with them one thing, that's good," Goebel said.