Corporate craze captures Tonganoxie athlete
By Lisa Scheller
lscheller@newsmwc.com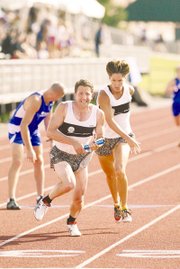 Bret Evans may be 19 years out of high school, but the 39-year-old executive still can run within three or four seconds of his high school record.
That record, incidentally, is the still-standing school record for the Tonganoxie High School Chieftains.
On July 17-18, Evans competed in the USCAA Corporate Track and Field Championships in Portland, Maine.
This is the fourth year that Evans, who works at the Kansas City, Mo., based GE Employment Reinsurance Corporation, ran the event.
The first year he won one medal, the second year, two, and last year Evans won a silver and a bronze.
"But this year I came home with three gold medals, which was my best performance so far," Evans said.
He qualified for the golds with these performances
The 800-meter in 2 minutes, 3 seconds. His THS record stands at just a little over 1 minute, 58 seconds.
The 400-meter in 53.9 seconds.

The 1,200-meter in 3 minutes, 22 seconds.
The 1,200-meter meant three laps around the track.
"That was a little bit of a stretch for me," Evans said.
Though he's modest about his performance, Evans acknowledged he was pleased.
"For my age group, it's pretty good," he said.
Phil Williams, who is Evans' former high school track coach, agreed.
"That's pretty good for a 40-year-old guy," Williams said. "I would think that would be one of the better times in the country for his age group."
An intriguing idea
Evans, who is the son of J.W. and Ferry Evans of Tonganoxie, learned about the corporate competition soon after he began working for GE about four years ago.
The idea of competing intrigued him, so Evans submitted some of his times for the 400-meter, 800-meter and the mile.
"I was kind of a middle distance sprinter and I was accepted to participate in the national corporate track meet," Evans said.
At the corporate challenges, from 50 to 70 GE employees worldwide compete with employees of other corporations, including Exxon Mobile, AT&T, Lockheed Martin and Microsoft.
"There are some executive relays, master relays, distance relays and spring relays," he said.
Evans was pleased with this year's results.
"I really was very fortunate," he said.
And, he was equally pleased with the fact that he received his medals from Bill Rodgers, who won the 1976 Olympic marathon.
"He was part of the event and presented me on the award stand with the medals," Evans said. "So it was a real neat experience."
He's a teacher, too
Evans and his wife, Gina, live in Leawood. Gina sells commercial real estate in the Kansas City area. Although she wasn't a runner when she and Bret first married five years ago, now she is.
"He taught me to run," Gina said. "I didn't run at all and he just took me on some runs and taught me proper form. I've been running ever since."
Like her husband, Gina is an early-morning person.
The couple gets up at 5 a.m. about five days a week to work out at a gym.
And then Bret takes out for a run through the nearby park.
"Running helps me mentally relieve stress," Bret said. "It clears my head for better judgment in the business world and it gets me energized."
For Bret, his athletic mindset today is just a continuum of what he's done throughout his life.
"Ever since the second grade when I ran Junior Olympics," Bret said. "I ran in high school, state, and at Bethany College I did two years track and two years cross country. And then I decided if I'm going to graduate I'd better focus on my studies, so I did that the last two years."