Ex-resident donates book to library
Guide centers on organized home garages
By Lisa Scheller
lscheller@newsmwc.com
Tonganoxie residents now have no excuse for a messy garage.
Bill West, author of "Your Garagenous Zone -- Innovative Ideas for the Garage," donated three copies of his newly published book to the Tonganoxie Public Library last Thursday. The book is packed with ideas about how to organize a garage and turn it into functional space.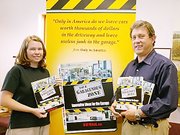 West, who is a 1969 alumnus of Tonganoxie High School, lives in Fort Collins Colo., with his wife, Beverly Donnelley, and their son, Taylor.
Today, West's garage is picture perfect.
"But," he said, laughing, "it didn't used to be that way."
West's endeavors began in 1998 when he organized the work bench in his garage. This inspired him to do a complete garage overhaul.
West wound up with a de-cluttered garage and an idea for a book.
Because he'd been a Realtor for several decades and had seen numerous disorganized garages, West knew the market would be loaded with potential book-buyers.
"There are 68.5 million owner-occupied homes with garages," West said.
And, he added, the National Association of Home Builders estimates Americans will spend $2 billion on remodeling their garages this year.
His first version of the book was a self-published edition that came off the press in 1999. That book sold 2,300 copies.
West wanted to improve the book, and so that he could learn more about the publishing industry and have control over the end product, he decided to self- publish the second version, as well.
"I stayed up late, hired a good book editor and found a good printer," West said. "I've had certain ideas for how I wanted this all to come together."
Sharon Moreland, Tonganoxie's librarian, asked West if he planned to quit selling real estate to focus on his writing.
West quipped, "I have to say no because one book does not a writer make."
West has hired a publicist to help promote his book. And in the fall when he returns to the area for his 35th high school reunion, a book-signing at an area Borders is in the works.
His book is available now from Amazon.com, and West received a call from CBS last week asking if he'd be willing to be interviewed for an upcoming Travel Channel show that features famous garages.