Where did they go?
Wyandotte County residents displaced by Kansas Speedway now settled in
Even today, Mayor Carol Marinovich recalls the agony of eminent domain.
Marinovich, mayor and CEO of the Unified Government of Wyandotte County and Kansas City, Kansas, since 1995, was a driving force in efforts to pave the way for Kansas Speedway.
The first requirement for development in western Wyandotte County was the acquisition of land. And at the time -- 1997 -- the 1,000 or so acres required was populated with about 140 homes, family farms and a few businesses.
"Relocating the people -- that was hard, that was hard," Marinovich said in an interview last week. "When a government has to tell folks: We're going to make you move. It was the right decision for us to make but oooh, it wasn't enjoyable."
To acquire some properties, Marinovich said, the Unified Government exercised eminent domain.

Marinovich recalled a particularly poignant comment made by a resident who was forced to sell his home.
"A senior citizen, in his 70s, asked me where is a safe place to move. I said what do you mean. He said where the government can't come in and make me move. This was the second time he'd been relocated in his retirement," Marinovich said. "That just about did me in."
But Marinovich believed in the future of western Wyandotte County and what development could mean to the Kansas side of Kansas City. And to fulfill the vision, land was needed. And so it was acquired -- one way or another.
In the draw
The residents of western Wyandotte County scattered when forced to sell out to the Unified Government.
These residents had the fortune -- or misfortune, depending on whom is asked -- of living in an area conveniently lodged in the northwest corner of Interstate 70 and Interstate 435.
This story highlights only a handful of the residents who moved into southern Leavenworth County after selling their homes to the Unified Government.
But their varied responses provide a well-rounded picture of how, now -- six years later -- they feel about the forced transition.
Although all have moved on with their lives, each has a unique story. For some, the move was already in the planning stages, and for others, such as Joyce Vaught's elderly mother-in-law, it was the last thing they wanted to do.
"She'd lived there 91 years," Vaught said of her mother-in-law who was born on the farm. "She said, 'I'm like a man without a country -- I don't have a home to go to.' That was on a Thursday, and she died on Saturday."
In the late 1990s, Joyce Vaught's family had long been settled on the 80 acres that was owned by family members for more than a century. The family affectionately referred to the agricultural property as "the rock farm" because of the sandstone layer so close to the surface.
But it was scenic rolling land, with a stream that cut through the center of the property.
Vaught lived in one house. Her mother-in-law, who had lived on the property all her life, and Vaught's children also lived in homes on the property. Cattle grazed on the south side where the property slanted toward Interstate 70.
The family had already gone through two condemnations on their property. The first condemnation was when Interstate 435 cut across their property.
"That took the house," Vaught said of her mother-in-law's former home.
The second condemnation was for a Piper sewer line which was installed along the creek that crosses the property.
Five years ago when interviewed by The Mirror, Vaught was bitter about the relocation. She had threatened a lawsuit, and ultimately negotiated a settlement with the Unified Government.
But now, Vaught is happy.
"At first, I was really pretty bitter about having to come out here, we'd lived there for so long," Vaught said. "But now I love it."
When her friends visit, she's proud to take them to downtown Tonganoxie to lunch and shop.
She's thrilled that her grandchildren, who live next door, are attending Tonganoxie schools.
"I love this school district," Vaught added.
And, she's also proud of her old home turf, especially the development that's occurred in the area of Kansas Speedway. Her home, she said, would have been just above the tunnel entrance that leads to the infield of Kansas Speedway.
She keeps track of progress in and around the racetrack.
"It's beautiful and the whole thing is, it just amazes me when you go down there to eat how there are all those places and they're busy," Vaught said. "It's just a beautiful thing."
On her first trip to Cabela's with her son-in-law, Vaught said they were impressed with the bronze wildlife sculpture, the pond and fountain, and added:
"We thought it was an amazing thing that Kansas City, Kansas, would ever have anything that pretty."
That's progress
That kind of a response is exactly what Don Denney had hoped for when he worked with the Unified Government to initiate development in western Wyandotte County.
Denney, spokesman for the Unified Government, said he sympathized with those who lost their homes.
"When you have lived in a location for as many years as some of these folks did, not all the money in the world could take the place of old memories and historical family value," Denney said. "But I think the ones I've talked to, they've put that behind them and moved on with their lives."
Denney said he hopes the former residents realize the value of their "sacrifices" regarding the economic development in Wyandotte County.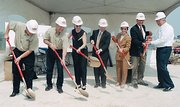 "What's occurred in our community has occurred because of what they made the sacrifice for," Denney said. "I hope they have some pride in feeling that the success we're enjoying in Wyandotte County and Kansas City, Kansas -- that they played a part in that happening."
It wasn't easy getting through the early stages of the process, Denney said.
"There were a number of lawsuits over property values," Denney said. "They've all been settled. Most of them were settled out of court."
The property owners, Denney said, were given a fair price.
"Those people got 125 percent of the value of their property at the time the purchase was made," he said.
Denny saw the buyout as an opportunity, albeit an emotionally expensive one, for the homeowners.
"I strongly believe that every one of the folks did better themselves from then to now," Denney said.
But, he said, nothing could ever replace what the homeowners lost -- as far as their sentimental and historical ties to the land -- especially for those whose families had lived there for multiple generations.
"That's the down side of progress.," Denney said.
The upside of progress, Denney said, is the city and county's benefit from development.
"At the time we had the highest tax rate in the state of Kansas," Denney said. "Now we're number seven and the mill levy is going to continue to go down."
Before the speedway and related construction, Kansas ranked 49th in the nation in tourism.
"Now it's gone up some and Cabela's is the number one tourist attraction in the state." Denney said. "And Nebraska Furniture Mart -- the next time those statistics come out, they're going to be right up there, too."
Currently, the businesses at Village West are drawing 3 million visitors a year. When development is completed, that's projected to increase to 10 million.
"We really helped put Kansas on the map," Denney said. "Particularly Kansas City, Kansas, and Wyandotte County."
Not settled yet
Alice Pintar said there's nothing wrong with the racetrack and other businesses that have since moved into western Wyandotte County.
"I'm sure it had to be to get Wyandotte County on the map," Alice said. "I'm sure they're happy with it, but they don't realize what they did when they could have moved one mile west. ... That's the sad part -- they had to take 152 homes, but they probably could have taken 20 or 30 if they had moved a mile west."
Alice and Ernie Pintar had searched 10 years for their retirement home. In the 1980s, they finally found a house that suited them in western Wyandotte County.
They never dreamed that someday their home would fall to a racetrack.
They'd lived there for 12 years and were in their late 60s when the speedway came about.
The Pintar's brick house wound up being demolished.
Like their neighbors, the Pintars were paid the 125 percent of the appraised value for their home. That wasn't enough.
"Not for what they used it for," Pintar said, noting today's high real estate prices in Wyandotte County. "Not for what it's going for now."
Although it's been six years since they moved to southern Leavenworth County, Alice still doesn't feel settled.
"We're not young enough to get over something like that easily," she said of the transition. "We loved our house, we loved our neighborhood and we had quite a nice little community."
The Pintars have worked to bring their 10-acre parcel of ground up to shape. But no matter how hard they work, there's a down side to country living, she said. "The roads are terrible," Pintar said, noting they live on a gravel road where passing vehicles and north winds stir up a foggy cloud of dirt. "We have dust all the time."
She's called the county government about the roads. And although she realizes the county has no plans in place to pave gravel roads, she wishes something could be done.
"I wouldn't live in Leavenworth County again," Alice said. "The south end of Leavenworth County is a forgotten people -- they think we're too far off."
And, in the country, Alice said there's a lack of a feeling of community. They know their neighbors, she said, but it's not the same as living next door.
Alice said of her former Wyandotte County home, which would have been where the third curve on the back stretch of Kansas Speedway is located today: "We were right where we wanted to be."

-- Next week, look for part two about residents' adjustments after leaving western Wyandotte County.