Minister following new path
Ben Saathoff isn't riding off into the sunset.
But he is slowing down a bit.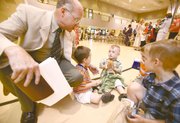 Saturday morning, Ben and Margaret Saathoff took a ride on their neighbor's Harley Davidson -- just for a photo shoot. But it did remind the couple of their earlier days in Tonganoxie when Saathoff would ride his BMW 750 motorcycle to visit parishioners in Kansas City hospitals. And he and Margaret often took the BMW on joyrides around town -- with their youngest daughter, Lenay, tucked between them.
On June 27, Saathoff will complete his 29 1/2 year tenure as senior minister at Tonganoxie Christian Church. Dirk Scates, who has served as assistant minister since last summer, will take over the top ministerial position, while Saathoff will step into the role of pastoral minister.
It's a half-time position, one that will ease the 65-year-old Saathoff from the pressures of administrative work and give him more time to spend with parishioners and his family.
After the first worship service last Sunday morning, Jerry and Keith Burwell said they both would miss seeing Saathoff in the pulpit.
But they both said they thought the church would be in good hands with Dirk Scates.
"Dirk is different from Ben, but I think he will do fine," Jerry said. "He doesn't have the quiet gentleness that Ben has, but at the same time he really loves the Lord and he really loves people. If the church gets behind him, I think he'll do just as well."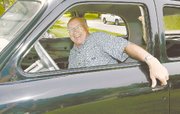 Success story
It's easy to agree that Saathoff has done well.
In his three decades at the church, average Sunday attendance has grown from 90 to 516. To accommodate the members, three worship services are held each Sunday morning. It's not uncommon for 325 parishioners to pack the sanctuary for the earliest service -- in a room designed to seat about 275. To accommodate the crowd, extra chairs are often brought in.
In January 1975 when Saathoff came to Tonganoxie and preached his first sermon, the church was in a landlocked building at Fourth and Shawnee (where the Good Shepherd Thrift Shop and Food Pantry is now located). With their own hands, parishioners built a new church on what was then the south edge of the city. The first Sunday worship service was held in the new sanctuary on Sept. 10, 1978. Since then, two spacious additions which include classroom space and even a gymnasium have been added.
In the early 1990s, the church opened a private school which last year instructed students in kindergarten through sixth grades, and included a preschool. In the next couple of years the school will expand to include seventh-grade, and possibly eighth-grade, classes as well.
People business
It's been good.
But it's time for a change, Saathoff said.
"I'd like to get out and just relate to people and be involved in people work and not have to worry about the administrative side of things," Saathoff said.
Ministry has changed, he said.
"There didn't used to be a whole lot of paperwork in counseling and now that's a major portion of the time," Saathoff said.
But, because of today's hectic lifestyle, he realizes that visiting his congregation will take more scheduling than it used to.
"In the past you could go out and visit in homes and knock on doors and talk to people," Saathoff said. "You know, people's lives have changed today to the place where they're not home. Their lives are rushed -- they're hectic. They're going to ball games with their kids or involved with their kids in something else and that's true of our lives, too."
He's especially glad to be rid of his administrative duties.
"I don't like the administrative stuff," Saathoff said, shrugging his shoulders as he smiled. "If there's a side of things I don't like to be involved in, that's it."
His administrative work included watching over the church property, making sure those who used, for instance, the kitchen or buses, took care of them -- and reprimanding them if they didn't.
"I find that some people just maybe haven't thought about their own responsibility and the way things need to be done," he said. "And sometimes you have to spell it out."
As far as taking care of church property, Saathoff mentioned a change in the past 30 years. It used to be that churches were unlocked 24 hours a day every day of the year. If people who were passing through town wanted a place to rest they were welcome to use the churches.
"If they needed to come in and sleep, they would sleep on a pew and they would never leave things in a mess," Saathoff said. "But we couldn't do that today."
Local voice
While many churches change ministers frequently, often at the decision of a higher leadership bracket in the denomination, the Christian Church is different.
It's the members who govern the Christian Church. For instance, in the hiring of Dirk Scates, after the church elders recommended him, the members voted on whether to hire him.
"We're not denominational," Saathoff said. "We're an independent congregation. We don't belong to any kind of a church hierarchy."
Consequently, Saathoff said, "People in Kansas City or somewhere else don't have a lot to say about what we do here and what be believe."
And, Saathoff said, the Tonganoxie Christian Church is biblically oriented.
"We use the Bible as a faith and rule and guide to the way that we live here," Saathoff said as he sat at his office desk, hands clasped calmly before him. "Truth is truth and what was truth in the first century is still truth today. The truth doesn't change. Maybe our understanding of the truth varies, but yes is still yes and no is still no. Some of those issues in the Bible still are as viable today as when Jesus taught them as he was standing in Israel or the Sea of Galilee or anywhere."
Family ties
With Saathoff's longevity at the church, he's been involved in the spiritual growth of multiple generations of the same families.
For instance, Pam and John Putthoff's 1976 wedding ceremony was one of the earlier marriages Saathoff performed after coming to Tonganoxie.
He will remember theirs forever, he said. The young couple had planned a wedding in a park in Lawrence.
Pam Putthoff laughed when she recalled their first meeting with Saathoff.
"Johnny had the longer hair -- we were sort of in that '70s era," Pam said. "... It's kind of a standing joke about us having a Harley."
The outdoor wedding was planned, but Saathoff insisted on alternate plans -- just in case it rained. So he called a minister in Lawrence and asked to use a church there. It rained.
Ever since, Saathoff has fit into the Putthoff family's life in a fatherly kind of way.
"He's not quite old enough to be our parent," Pam Putthoff said, "But he, and Margaret, have been like parents to us -- and mentors."
John Putthoff said he always knew he could count on Ben.
"I remember calling him in the middle of the night," John said. "The man would do anything for you -- if you had a problem, he was always there."
And, Saathoff has had a profound influence on the Putthoff's children.
"He's been an example to our kids," Pam said. "Our kids have always looked up to him. And now our oldest son, Josh, is in the ministry, and our second son, Ty, is soon to graduate from college and go into the ministry."
And the Putthoff's youngest son, Preston, 12, is already talking about following in his brothers' footsteps.
The family members who are still at home attend worship together each Sunday, including their daughter Emily and her daughter, Rylie Ann, who John hopes will grow up in the church as well.
While John said he'll miss hearing Saathoff's sermons, there's a plus side to the plans.
"I'm just glad he's not leaving," John said. "He's going to be around yet."
Optimistic outlook
When asked, if he only had a short time to live, what would be his burning message to the world, Saathoff's response was immediate.
"I would say that our only hope as a people is to really live life in the way that God planned for us to live," Saathoff said. "Jesus said I have come that you might have live and have it abundantly and because God created us physically, emotionally, mentally and spiritually, He knows our makeup and he knows everything that is best for us."
That doesn't mean people are forced to follow God's wishes.
"We can disobey all that to our own ruin," Saathoff said.
His beliefs show his faith.
"God really has meant for us to understand and enjoy life to the fullest. So that's what gives me an optimistic outlook -- hope and of course it's founded in the Lord."
He pauses, momentarily before continuing, with a wise grin: "Otherwise, I'd be a pessimist today."
The other side
When people think of Ben Saathoff, chances are they picture him dressed in a shirt and tie.
But when he's not working, there are times when he's likely to be dressed more casually.
His hobbies -- gardening and rebuilding old cars -- would necessitate that.
In the Saathoffs' back yard, he's made the most of a shady site and sloping hillside where he's planted perennials for a variety of summer blooms. And just off the patio is a composting drum into which Saathoff deposits grass clippings and kitchen scraps to further nurture his gardens.
In his garage is a work in progress -- a 1950 Ford he's rebuilding. At a friend's barn is another refurbishing project, a 1936 Ford pickup truck.
Another hobby could keep him busy for a long time. He's a photographer who loves taking pictures of wooden windmills. It's not just the windmills he looks for -- it's also the right time of year and the right time of day for the best light. In the foyer of their home hang three of his windmill prints. One, taken in a western state, took six years for him to catch in the right light.
He's even joked with his wife, he said, about getting another motorcycle.
"Margaret said if I wanted to get a Harley, I could," Saathoff said. "But there's a qualification -- she said, 'Get rid of all your old cars.'"
However, he noted, she said he could keep one of the old cars. It's not that Margaret's trying to "put a lid on things," Saathoff said.
"Probably I ought to be more realistic, instead of dreaming," he added.
But just in case he does go the motorcycle route, he's got the first step in hand. For all these years he's kept his motorcycle driver's license.
But what about the outfit to go with it?
Saathoff grins when he considers the possibility of riding off into the sunset on a Harley Davidson, with Margaret behind him, each wearing a black leather get up.
He chuckles, tilts his head and in his typical genial fashion, replies: "No black leathers -- after all, you know, there's a limit."