Longtime coach retires — or does he?
So this is what retirement feels like.
Longtime Tonganoxie teacher Bill Shaw retired from the Unified School District 464 faculty last month.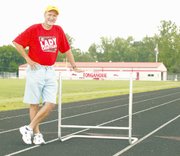 An English teacher in the Tonganoxie school district, Shaw would wake up each weekday at 5:30 a.m.
Now it's summer -- the first of his "retirement" -- and Shaw wakes up at -- 5:30 a.m.
A basketball instructor for summer enrichment at Barstow Academy in Kansas City, Mo., Shaw still is keeping busy with various jobs.
Even though he retired from teaching at Tonganoxie last month, Shaw will resume his teaching career in De Soto. Along with working at Barstow in the summer, he also mows cemetery lawns during those months each year.
Deciding on De Soto
In Kansas, when a person's age plus years worked reach 85, the resident can retire. Shaw, now 55, has been teaching at Tonganoxie for 33 years and has surpassed the magic retirement age.
But after retiring from a school district in Kansas, a teacher, by law, still can work in the same district -- if their salary is less than $15,000.
That doesn't apply to Shaw, so he will earn his pension from Tonganoxie and teach at De Soto beginning in August.

"Financially, it's a good move," Shaw said. "It's a good deal.
"De Soto is a very good district and I think I was hired to bring up their reading scores."
Shaw, who taught eighth-grade literature in Tonganoxie, will teach the same in De Soto. Before finishing his three-decade stint teaching in Tonganoxie, Shaw's students notched "standard of excellence" status on state reading tests. Shaw said that only 10 percent of state schools receive that recognition.
"That's a nice way to end my career at Tonganoxie with the eighth-graders receiving that award," Shaw said.
While at Tonganoxie, Shaw taught high school and junior high English classes. He also was adviser for the school newspaper before it was discontinued about 15 years ago. Since then, Shaw has been at the junior high. He has been the junior high newspaper adviser and three years ago developed a media class.
From Cheesehead to Chieftain
Shaw lived in Milwaukee until he was 14. At that time, his father, who worked for Schlitz Brewing Company, was moved to Kansas City, Mo.
He attended St. Pius X in north Kansas City before heading off to college at St. Benedict's in Atchison. Shaw graduated in 1970 from the all-male college. A year later, the school became coed and was renamed Benedictine.
After graduation, Shaw said he drew a circle on a map with a 50-mile radius around Atchison and applied to every rural district in the area.
"Tonganoxie called me for an interview," Shaw said. "I liked what I saw.
"We moved not knowing how close Tonganoxie was to Kansas City until we drove down State Avenue."
Shaw student-taught at Effingham in Atchison County before coming to Tonganoxie for his first full-time position. The Wisconsin native said there was just something about Tonganoxie that's kept him here for what will be most of his career.
"I think it's a combination of things," Shaw said. "We've always enjoyed the community and the rural area and I couldn't imagine teaching any students who were any better.
"Even though I lived in the suburbs as I was growing up, I found the country was more appealing."
The same goes for Shaw's work environment at TJHS.
"Probably the thing I'll miss the most is the closeness of faculty at the junior high," Shaw said. "It's a tight-knit group; very unselfish people."
And he'll also miss the students at TJHS.
"Kids at Tonganoxie are very good kids and, for the most part, pleasant and well-mannered," Shaw said.
Shaw's wife, Brenda, also teaches in Tonganoxie. They have three sons -- Evan, 25, who is an architect in Des Moines, Iowa; Phillip, 23, who is attending music school in St. Paul, Minn.; and Michael, 15, a sophomore at THS.
His oldest sons are closer to his native Wisconsin than he is, but Shaw does try get back to visit his parents at least once a year.
No matter how far from Green Bay he is, however, Shaw still is a Packers fan.
"From Vince Lombardi all the way to Brett Favre," Shaw said.
On the lawnmower
Equaling Shaw's tenure teaching in Tonganoxie is Shaw's mowing of local cemeteries.
During his first year in Tonganoxie, the late Tonganoxie teacher Jean Harman inquired about Shaw mowing the Reno Cemetery.
"From that one, people at Maple Grove, asked if I'd like to do it, and then it merged into doing all of them," Shaw said.
Fellow Tonganoxie teacher Pat Wakeman also has mowed lawns with Shaw.
"We became partners on a handshake and have been doing it for whatever, 33 or 34 years," Shaw said.
Throw in his work at Barstow Academy and Shaw stays busy during the summer months. Bill has taught for six years at the academy; Brenda has taught for four.
The Shaws learned of Barstow's enrichment academy through former Tonganoxie teacher Georgia Hamill. Hamill had an aunt who worked at the academy.
Bill teaches basketball for grades one through eight, while Brenda had done "a potpourri of things there."
Track is in his blood
Back in 1972, Title IX was just coming into effect. Schools needed to comply by offering equal numbers of male and female sports teams.
Shaw was asked to be Tonganoxie's first girls coach. He agreed, with the stipulation that he would return to coaching boys after a year.
He has been the girls track coach ever since.
"After coaching girls for one year, their enthusiasm and dedication was so great, I didn't want to give it up," Shaw said.
Next spring, Shaw won't be the head girls coach, but he still will coach at Tonganoxie.
School administrators gave him the option of retaining the head-coaching position, but he declined because it would be hard to get back for the start of practice on a consistent basis.
"In fairness to both districts I didn't think I could get back every day on time," Shaw said.
De Soto also asked Shaw to coach track, but he opted to stay with the program he's helped build for so many years.
Shaw basically is a walking THS track almanac.
With a rubbing of the forehead and a squinting of the eyes, Shaw computes various statistics.
Tonganoxie girls teams have taken first or second at league meets in 18 of 31 years.
Girls teams have had 118 individual league champions, 33 regional champions and 46 state medalists.
"The thing I'm probably most proud about is our consistency over the years," Shaw said. "I kind of think that's a sign that we've been able to get some good kids. We've been able to produce a pretty good product over the course of time."
Shaw also takes pride in Tonganoxie's track, which was installed about five years ago as part of the Beatty Field football complex renovation.
In that time, four out of five regional track meets have been held in Tonganoxie.
"I was real grateful when the board decided to put in an eight-lane track," Shaw said. "That's nice that we can bring that kind of recognition to our town."
Regionals also attract plenty of THS track alums to assist with the large meet.
"They bring a lot of their expertise to help the meets run smoothly," Shaw said.
Although he has been the school's only girls coach, he also has been the unofficial hurdles coach for both teams. Shaw has helped groom 13 league champions and one state champ -- Kevin Adams in the early 1980s -- in the hurdles.
Shaw's first love is track, but he also has coached several other teams in Tonganoxie. Shaw coached cross country when he first arrived. He started the freshman girls basketball program and has coached junior high girls and boys basketball off and on.
Easy to spot
Shaw always has been partial to Tonganoxie red, but about 10 years ago, he started wearing another color -- orange.
From an orange vest to orange Cabela's and Kansas State hats, Shaw sticks out at a meet like a shot putter competing in the pole vault.
But that's why Shaw wears bright orange. He wants his athletes to spot him easily in case they need anything.
On a trip to the Kennedy Space Center in Cape Canaveral, Fla., Shaw purchased several bright orange NASA hats, all of which he still has. Every track season he rotates the wearing of those hats.
On a recent trip to Minnesota, however, Shaw expanded his fashion scheme. He purchased a bright yellow Nike hat at a Nike store in St. Paul.
And in the winter, Shaw breaks out a very bright red snow suit.
"It looks kind of goofy, but they can spot me right away," Shaw said.
The coach still can be found at Tonganoxie track meets wearing his bright colors, but track athletes wanted a permanent reminder of Shaw's contributions to the program.
Outgoing seniors Kelly Breuer and Kylie Ritchey announced at the annual track banquet that they would be planting a tree the next day that would honor Shaw.
Just northeast of the track at Beatty Field, a tree paying tribute to Shaw now is positioned.
Shaw will see the tree every day on his way to teach in De Soto. Breuer and Ritchey had a reason for placing the tree there.
"When it blooms, you'll be thinking of track," Shaw said.