Slice of Hawaii
Stein helps all-star team to tournament championship in Pigskin Classic
Nick Stein's Hawaiian vacation wasn't all play, but the work certainly was worth it.
The 2004 Tonganoxie High graduate spent a week earlier this month competing in a football tournament through Elite Sports International of Oklahoma.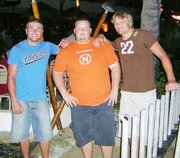 Playing on a team of Kansas all-stars, Stein was one of 27 players on the Sunflower State squad.
Teams in the tournament played in two-quarter games.
Kansas defeated Oklahoma and Texas Orange before beating Iowa/Georgia. That set up a championship game against Texas Red.
Kansas, which hadn't given up a point until the championship game, faced a Texas team that also was undefeated heading into the finals.
The local squad kept its streak intact.
The teams were scoreless going into overtime, which gives each team four plays each to score from the 10-yard line. Texas Red couldn't score on their possession, but Kansas drove to the 2-yard line and then kicked the field goal for a 3-0 victory.
"It basically was a dogfight until the end," Stein said.
Mid-America Nazarene coach Mike Cochran and MANU assistant Rod Smith coached the Kansas team. Stein will play for the Pioneers in Olathe this fall.
To make the trip a reality, Stein had to raise nearly $2,000. He said he received about half the money from local businesses and the other half from family and friends.
Aloha!
Stein arrived June 8 in Honolulu.
A day later, he saw all the sights.
He and teammates visited Pearl Harbor, the Dole pineapple plantation and Aloha Stadium where he and a few teammates were given tours.
The group also went to a Polynesian Culture Center and a luau, complete with ritual dances and a large roasted pig, that evening.
"We started at 6 in the morning," Stein said. "We didn't get back until midnight."
With a new digital camera in hand, Stein made sure he snapped shots of the many destinations. The group also utilized the beach and visited the house that was used to film the 2002 surfer movie "Blue Crush."
On his last day in Hawaii, the group went snorkeling, jet skiing and parasailing.
Oh, and Stein also made his way onto a surfboard.
"We went surfing," Stein said. "We attempted to surf, I should say."
But of all his adventures, Stein was most fond of one thing.
"It was all pretty fun, but probably going to the Polynesian Culture Center," Stein said. "It was all authentic."
Down to business
Although other teams would wear full pads for their practice sessions, Stein said the Kansas team went helmets and shorts.
The first day of practice the team learned plays and in the next two days they ran through plays at full speed.
"Coaches were expecting perfection," Stein said. "We didn't go pads, but definitely had to go all out."
Stein, a lineman, spent most of his time hanging out with two backs from Great Bend -- running back Brent Meter and fullback Keith Rathbun, both of whom are going to school at Kansas.
"He was like the best player in the whole tournament," Stein said about Meter. "He was awesome."
The May THS graduate still has his mind on football.
Since June 1, he has been working out in Olathe with his future MANU teammates.
On Tuesdays and Thursdays, Stein has weightlifting, while some days he'll have lineman footwork and agility drills.
The Pioneers were ranked fourth in the nation in defense last year and have won back-to-back Heart of America league titles.
In 2002, MANU finished 9-2 and last year the team went 12-1 with an NAIA playoff appearance.
Stein hopes to continue the tradition in the fall.
"I had winnings seasons in high school and it was fun, I'm just ready for a ring," Stein said. "Everyone on the team has these huge rings.