Volk throws no-hitter in sweep
John Volk pitched a gem Thursday in Tonganoxie.
It was a shortened gem, but still a no-hitter.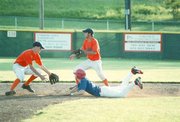 Volk walked two, but didn't allow a hit in five innings against Leavenworth Post 23 in the first game of an American Legion doubleheader.
Tonganoxie Post 41 won, 8-0, in five innings because of the Legion mercy rule of a 15-run lead after three or an eight-run lead after five.
Tonganoxie took control early in the first game. Post 41 opened with a five-run first and then scored one in the third and two in the fourth, sealing its second victory of the season.
The Leavenworth team committed four errors in the opener.
In game 2, Tonganoxie opened the game with a 1-0 lead, but Leavenworth answered with a run of its own. The same scenario unfolded in the second and the teams were knotted at two.
That all changed in the fourth.
Tonganoxie put up four runs in that inning and 15 in the top of the fifth on its way to a 21-2 win in five innings.
Coach Andy Gilner was pleased with hitting, but still would like to see better production.
"We're getting better, but we still have quite a few left on base," Gilner said.
Tonganoxie left six runners on base in game 1 and eight in game 2.
Josh Putthoff pitched four innings in the second game, allowing two runs on one hit. Chris Folsom pitched the final inning. He forced two batters to ground out and another to fly out in an inning of relief.
As for Tonganoxie in the field, the team didn't commit any errors in the second game.
"Defensively we played well," Gilner said.
Derek Sparks went 5-for-7 in the doubleheader, while Clay Lamb was 4-for-7. Hunter Samuels was 2-for-3, Phil George 2-for-5 and Jacob Herrstrom 2-for-6. Daniel Volk finished 2-for-7, but had 3 RBI.
Tonganoxie played Tuesday at home against the Bonner Springs Knights and heads Friday to Bonner Springs to take on the Diamondbacks.
Box scores
Post 23 000 00 -- 0 0 4
Post 41 501 2x -- 8 9 1
Left on base -- Post 23 2, Post 41 6.
Post 41 110 4(15) -- 21 15 0
Post 23 110 00 -- 2 1 3