Jacki Cahill had always wanted to ride in a hot-air balloon.
So on Friday night, in a celebration of her 70th birthday, she climbed in the basket and up she went, along with her sister, Jan Mathia, and her nephew, Danny Mathia.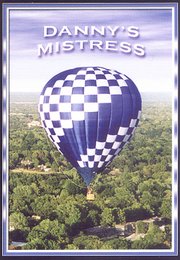 Danny Mathia recently received his commercial balloon license. He and his wife, Caroline, who live in Tonganoxie, plan in about three years to start a commercial hot-air balloon-ride business. And it's likely Cahill will be a return customer.
"It was the most awesome experience of my life," said Cahill, who lives in Leavenworth. "We went as high as 1,800 feet, and then we came down over the Wakarusa River and we were just at treetop level over the river -- that's what they call kissing the trees."
Danny Mathia's first sight of a hot-air balloon sounds like a scene straight from "The Wizard of Oz."
Mathia was about 9 years old and lived on a farm three miles north of Tonganoxie.
"We heard a loud noise and wondered what it was," Mathia said. "We went outside and looked and there was a balloon floating over. We waved, they waved and they followed on wherever the wind took them."
Today Mathia, now 47, is the one waving from a balloon.
Last August he spent the month in Albuquerque where he obtained a commercial hot-air balloon license.
This is part of Mathia's long-range plans to move to a more high-flying career.
For the past six years he's worked at the Harley Davidson plant where motorcycles are painted, two-toned, pin striped and silk screened.
When Mathia turns 50, he plans to begin working full time on his commercial balloon business.
¢ Danny Mathia has been invited to fly his hot-air balloon this weekend at the Kansas City Aviation Expo.
¢ The balloons will launch from the downtown airport and in the evening will return for a balloon glow.
¢ This is when, after dark, the balloons set up outside with their burners on.
¢ "It's just beautiful, they light up like great big lightbulbs," Mathia said.
Caroline, who works at Tonganoxie Nursing Center, is supportive.
"We knew we wanted to get into balloons and once we did we thought this is a really expensive hobby," Caroline said. "So let's make it a business -- and it gives him a lot more opportunity to fly."
Danny's work will likely cater to people looking for a balloon ride to mark a special occasion.
"The champagne balloon rides for anniversaries and special graduations and things like that," Mathia said. "That's what I'm more interested in -- just catering to people that just have the desire to go up."
Safety first
Though he loves flying the hot-air balloon, for the pilot it's not the carefree ride it appears.
"You're constantly scanning your instruments, you're scanning the skies looking for other traffic, you're scanning your fuel levels," Mathia said. "... I'm very busy. I've got a lot that I'm thinking about and watching and doing."
Perhaps there will come a day when he can relax on a balloon ride -- but it won't be on a balloon he's piloting.
"One of these days I've got to go as a passenger so I can enjoy it all," Mathia said. "I enjoy it, but I've got all the responsibility for your safety and my safety -- that's the most important things."
In summarizing his caution, Mathia recalled an old saying: "There's old pilots and bold pilots, but there's no old, bold pilots."
Mathia estimated he's taken his balloon up from 100 to 150 times. Caroline has only gone a few of those trips with him. She prefers to be a part of the vehicle chase.
"She's a little nervous still when she gets up there," Mathia said.
Caroline is upfront about her hesitancy to fly. For instance, the first time she flew in an airplane, she wrote out her will ahead of time.
"I am definitely a ground person -- always have been," Caroline said. "But I do enjoy it once I get up there."
The couple's sons, Josh and Jack, like to fly with in the balloon.
"Danny and the boys love being in the air," Caroline said. "I'm glad they got that from their father."
Danny Mathia said hot-air balloons have the best safety record of all forms of aviation.
"We can pretty well put down anywhere," Mathia said. "You really need to manage your fuel -- as long as you've got fuel and you've got heat from that burner you can pick and choose where you land. But if we run out of fuel then we're going to come straight down."
And that's when the worst danger would be structures, especially power lines. And even if the pilot lands the balloon in a safe location, the basket's going to hit the ground with a jolt.
"It wouldn't be real soft but you'd survive it," Mathia said. "That's why you never run out of fuel."
Part of his commercial training entailed flying without the burners on, which would simulate how the balloon would fly if it ran out of fuel.
"You get to see how the balloon behaves as it's falling from the sky," Mathia said. "You get to see how long it takes to recover from that and to get heat in the envelope and fly again -- it's good training but it's something you never want to do."
It's a natural
Flying is in his blood, Mathia said.
His grandfather was a private pilot for fixed-wing aircraft. When Mathia was in high school he learned how to fly a hang glider. Later he owned three powered ultralights.
"They're good for putt-putting around, but you can't really get anywhere in those," Mathia said.
Next he learned to fly fixed-wing planes. And finally, Mathia worked his way up to hot-air balloons.
"We've always had a love for balloons," he said. "After we got our two boys raised we decided let's pursue that."
The couple went shopping, and on the Internet found a balloon in northern Iowa. After a drive to look at it, Danny and Caroline decided it was a buy.
Then they talked about what to call it.
"Balloons are like boats," Mathia said. "You give them names. It was called Millen-nium Mistress, so my wife said let's drop the Millennium and call it Danny's Mistress."
Children who go to balloon meets collect balloon cards, which are like collectible cards for other sports. The Mathias' card for "Danny's Mistress" shows her sailing smoothly over treetops of green.
Cost-plus
It takes money to take up a hobby such as this.
Mathia said a good used balloon can range from $5,000 to $8,000. A new balloon can be as much as $35,000.
And that's just for the balloon and basket.
"You have to have chase vehicles, inflator fans, communication equipment, radios, the list goes on and on," Mathia said.
And then there's insurance and up to $300 a year for an annual inspection.
The balloon, or envelope, is actually made from nylon straps, or load tapes, similar to the material used for car seat belts.
"It's actually a big net of load tapes," Mathia said. "The colored panels are sewn in between those load tapes."
It's hard to describe what a balloon ride is like, he said.
For instance, from a balloon, the sounds from the ground are magnified.
"You can hear just about anything down below you, unless we're hitting the burner," Mathia said. "When it's not burning it's completely quiet. And you can smell if someone's cooking outside -- if they're mowing the grass -- you can smell all that because we're there riding in the open air in a wicker basket."
Then, he said there are the sights below, including people who waving at the balloon's passengers and frequently, taking pictures.
Everyone has a different description of what it's like to take a ride in a hot-air balloon.
But for Mathia, it's more than the sights and sounds. It's this that make his love of the skies worthwhile.
"To me personally it's almost like God picked me up and says look at what I've created," Mathia said, holding his arms in front of him, palms upward. "It's the world from his vantage point. It's almost a spiritual thing for me. ... It's just incredible, I can't describe it really."
His recent passenger, Jacki Cahill, agreed.
"It's beautiful," Cahill said. "It really is the most beautiful experience."
And, she plans to go again.
"I can't wait -- I'll see if he'll pick me up on my 80th birthday," Cahill said. "I told him any time you need extra weight in your basket, just call me up and I'll be glad to provide it."