Cold third quarter prevents
THS

boys from reaching .500 mark on Friday
Halftime was an exuberant period for the home team Friday at Phil Lobb Gymnasium.
Tonganoxie's Shane Howard had just drained a three-point shot at the buzzer. The dance team concluded the home schedule with its traditional performance that always includes volunteering high school boys. And most importantly for the Chieftains on senior night, THS held a five-point lead against rival Bonner Springs.
But once the second half started, that lead and the energy quickly vanished.
The Chieftains mustered just three points in the third quarter. Tonganoxie was only outscored, 12-10, in the fourth, but the dismal third prevented the Chieftains from ending the regular season with a victory. Bonner Springs won, 55-44, and completed the regular season with a 10-10 record.
"Our heads just weren't in it," said Howard, who led the team with 12 points. "We got caught up in our emotions because some calls didn't go our way.
"There's no reason we should have come out the second half that way, though."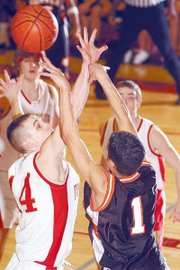 In the first half, the largest lead was five, held by Tonganoxie twice. The score also was tied on three occasions and the lead switched four times, but the Chieftains couldn't continue their energy into the second half.
"We have to forget about this and move on," THS coach David Walker said. "Teams that can do that are successful."
The loss kept the Chieftains from finishing the season at .500. THS entered substate with a 9-11 record Tuesday against Eudora. Substate seedings were decided last Wednesday. At that time, the Chieftains and Cardinals both were 9-10. A coin flip gave Eudora the home game.
If Tonganoxie won that game, they would play the winner of the Sumner-Bishop Ward game. Top-seeded Sumner was 17-2 when brackets were announced, while Ward's record was not available.
Look in next week's edition of The Mirror for complete substate results.