No debate: This
THS

team's a winner
For Tonganoxie debaters when it comes to winning, the sky's the limit.
If only their highway signposts -- where they hang each year's honors -- were so tall.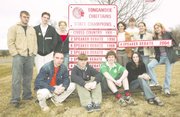 Along with signs noting the teams' wins from 1998 through 2002, there are still four signs left to hang -- from 2003 and now, 2004.
The signs are just a reminder that, once again, THS has lived up to its reputation as a school that excels at debate. For the seventh consecutive year, THS debaters not only won at state, but also qualified for national competition.
At this year's state meet, four-speaker teams, composed of Heather Harrison and Kaitlyn Kelly on the affirmative, and Heather Young and Tim Leffert on the negative, placed first. In regional competition, the four-speaker team had eight wins and no losses. In state competition, they again rallied, with 13 wins and only one loss.
Taking fourth place at state in two-speaker debate were Ben Jefferies and Garrett Kelly, Linsey High and Jason Smith, and Levi Huseman and Jeff Gravatt.
And, also competing at state were Erin Holton and Jake Williams, who came in at 17th place in two-speaker debate.
The state tournament, held Jan. 23-24 in Salina, wrapped up the regular season.
However, earlier in the season, two Tonganoxie High School teams, consisting of Katelyn Kelly and Heather Harrison, and Linsey High and Jason Smith, qualified for nationals, held Memorial Day weekend in Boston.
Debate students were quick to credit their success to the fact that they're part of a winning program.
"Mr. Harrell has a lot to do with it, and also some of the upper classmen who have given help over the years," said Heather Young. "You pick up a lot just by being in the atmosphere of champions. You also have the pressure to live up to the reputation -- shoes to fill."
And, students were quick to praise Harrell's dedication.
"He gives up his time," High said. "He'll be at the school, or at least will have someone at the school to help you when you need it."
Students also praised Kelly Sivits, the assistant debate coach, for his work.
Despite the success of the debate program, some of the debaters readily admit it's not uncommon to feel intimidated when starting debate.
"I think everyone has had one of those stories where you froze at the first time and you talked 30 seconds instead of eight minutes," said High. "It's horrible, but then you learn."
Excruciating moments like that pressure students to fine-tune their debating.
"Mr. Harrell always said you have get out there and travel because if you debate only in the classroom, you'll never understand what debate really is," High said.
But senior Erin Holton said that doesn't mean students take in-school practices lightly.
"The hardest part is debating in the classroom with Mr. Harrell," Holton said.
Sometimes, it's easier to debate in front of strangers, Kaitlyn Kelly said, adding, "When you're on the road, you'll never see those people again. But with Mr. Harrell, you'll see him every day. His opinion matters to us."
One debater, Justin Smith, said he goes into a debate with a feeling of calm.
"Your want to win, but you can't control it if you lose too many times," he said. "It's all subjective with the judges."
Debate students vary in their post-high school plans. Some plan to continue debating; some don't.
Heather Harrison said she's looked into the prospect of participating in debate at Kansas State University.
And Holton said having participated in high school debate may allow her to quiz out of public speaking at Kansas City Kansas Community College next year.
Some students said it can be hard to accept judges' critiques. The students mentioned being criticized for rolling their eyes, asking leading questions and cutting people off.
When sophomore debater Garrett Kelly termed debate "a cult," a couple of the students agreed.
It's difficult for family and friends who aren't in debate to understand why they get so upset about judges' comments or debates that didn't go as planned, they said.
But among one another, debate ranks high. It often is the topic of conversations.
"Kaitlyn and I, we have to stop ourselves from talking about debate," High said.
Kaitlyn agreed, saying: "We do, but the conversation always swings back around to it."