A sure sign
Couple to marry after public proposal
The sign says it all.
"I love u Missy. Will u marry me? Noah."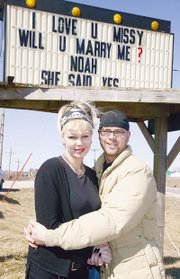 And then the bottom line, added later to the sign outside Helen's Hilltop bar and restaurant on Kansas Highway 16 about five miles northwest of Tonganoxie, reads: "She said yes."
Or actually, said Noah Bedell, his finacee's answer was a little bit longer.
"She said, 'I'd love to,'" Noah said during an interview last Thursday -- the day after he popped the question.
Missie Von Hallberg said her answer, after seeing the sign and then seeing Noah on bended knee, was immediate.
"When you're happy with somebody, I don't think you have to think about it," Missie said.
Missie, who manages Helen's Hilltop, had met Noah about two years ago when he was playing in pool tournaments at the bar and restaurant.
Professionally, Noah, who is a 1992 graduate of Tonganoxie High School, works as a fund-raiser for KCPT Channel 19.
When the couple first met, Missie, who is now 26, was dating someone else. But that boyfriend eventually left the area.
"Lucky me," Noah said.
While Missie admits to being publicity shy, Noah is not. He doesn't miss a beat when asked what drew him to her.
"She is who she is and she's very proud of it," Noah said. "She doesn't care what people think about her."
And, Noah said, she has a charming way of accepting their differences. He used hunting as an example.
"I love the fact that when I go hunting, she makes me say I have an appointment because she's against hunting," Noah said. "So I say I have an appointment in the morning. She's a trip. I really love her."
Noah, who is 30, said it's likely the couple will be married in Las Vegas in the springtime.
The couple's parents, Kathy and Ken Crews, Tonganoxie, and Helen and Frank Ihrer, Basehor, are happy about their engagement.
Before Noah proposed to Missie, he told his mother and stepfather about his plans.
"He had a twinkle in his eye," Kathy Crews said. "I said are you happy. He said yeah I'm happy and I said that's all that matters. He said he would be happier when she says yes."
Crews described her future daughter-in-law as a "sweetheart."
"She's just a real genuine down to earth person," Crews said. "A lot of people put on airs and everything -- she doesn't."
Like Crews, Missie's mother, Helen Ihrer, said the couple seemed to be a perfect match. In fact, she used similar terms to describe her future son-in-law.
"I think he's a sweetheart," Ihrer said. "He's good for Missie, he's just a down-to-earth, perfect guy."