On track for more in '04
Girls team returns strong relay team; boys must replace state gold medalist
The progression for the Tonganoxie girls' 4x800 relay team looks promising.
Two years ago, the team placed sixth in the relay at state and last year finished third.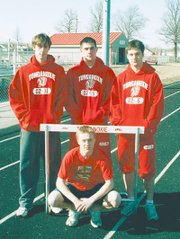 Although Tori King did not return to the team this year, senior Katie Jeannin and juniors Maddie Weller and Laura Jeannin both are returning.
And Heather Helm, a member of the team until injury cut her season short last season, could return to the relay team as she competes with several freshmen for the slot.
That gives the Chieftains a solid shot in the eight-lap relay.
Tonganoxie should score well in the event. The team also should receive huge contributions from Rachel Weston, the Chieftains' leading scorer a year ago.
Weston's specialty is the hurdles, but she also has scored points in the high jump and pole vault.
"She ought to do quite well for us," THS coach Bill Shaw said.
In throwing events, Sarah Bradley and Heather Deaver also return to the squad. Both competed in shot and discus.
In the javelin, senior Kelly Breuer will make another run at state. Breuer finished fifth at regionals last year with a personal best throw of 106 feet, 9 inches.
Rebekah Mages also will seek a state trip in her senior year with the javelin.
A healthy Helm also could provide points in hurdles, an event she has excelled in when nagging injuries haven't kept her out of competition.
Tonganoxie will miss standout Jennifer Reischman, who was a two-time state qualifier in the high hurdles. Lost to graduation, Reischman placed seventh at state as a junior.
But as a top performer leaves because of graduation, Shaw hopes a good crop of freshmen can provide points this spring.
"There's a strong core of freshmen basketball players who decided to come out for track," Shaw said. "From those group of athletes they ought to make it a strong overall team."
Compared to the rest of the Kaw Valley League, the Chieftains should be in good shape again. Last year, Tonganoxie won four meets and placed second in the KVL.
But Shaw looks for Mill Valley, which has won two consecutive KVL titles, to be the team to beat.
"They're probably the odds-on favorite," Shaw said.
Tonganoxie has 28 girls out this season and opens the spring campaign Tuesday at Lansing.
BOYS TRACK
Last year's Tonganoxie state meet might be hard to top.
Jacob Walker set a new school record in the triple jump and won state in Class 4A at Cessna Stadium in Wichita.
Andrew Miller finished third in javelin.
The team of Kyle Norris, Jacob Walker, Tony Aligo and Levi Huseman finished fourth in the 4x800 relay.
And overall, the Chieftains finished seventh as a team with 24 points.
Of all the aforementioned athletes, only one -- Levi Huseman -- was not a senior last year.
Tonganoxie will be without some of its top scorers from a year ago when the team begins the season Tuesday in Lansing.
"We may not be quite as good as far as state placers," THS coach Phil Williams said. "I think we'll have some depth and be pretty competitive in a lot of the meets we go to."
Tonganoxie does return senior Nick Stein, who just missed finals in the state shot put event last May.
Along with Huseman, Corey Brest will be back in a track uniform, as will pole vaulting senior Travis Andrews.
The Chieftains also likely will rely on Andy Kolman in distance events.
Shane Howard, one of Tonganoxie's better hurdlers last season, also returns for his senior season.
"Hopefully Shane Howard can have a good year and score a lot of points in the hurdles and the jumping events," Williams said.
Williams expects Lansing to contend for this year's league title.
"Hopefully we can have a chance to be in the fight for it," Williams said. "Mill Valley in the preseason would have to be the one to beat."
After Tuesday's meet in Lansing, the Chieftains will travel Thursday to the Basehor Invitational at Basehor-Linwood High School.