Boys trudge through weather
Chieftains take second at Gardner-Edgerton; girls place seventh
Friday's Trailblazer Invitational in Gardner wasn't the scene for ideal track weather.
Cold temperatures, drizzle and then rain greeted the Gardner-Edgerton sports complex.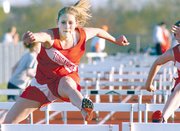 But who knows, the crummy conditions might have actually helped the Tonganoxie boys team.
Billy Baska, Robert Kirch and Jeff Hughes combined to score 32 points in the long jump and triple jump, providing the Chieftains with just more than a third of their total points.
"That was a big boost to us," said THS coach Phil Williams. "Billy Baska is getting healthy again. Robert Kirch and Jeff Hughes have been scoring regularly."
Baska placed second in both events, jumping 39 feet, 8 inches in the triple jump and 20-3.5 in the long jump.
Kirch placed third in both events leaping 38-1.5 in the triple jump and 19-8 in the long jump. Hughes finished at 37-11.
The high jump also provided Tonganoxie with points as Shane Howard finished first with a 5-10 height and Matt Chenoweth fifth at 5-8.
Tonganoxie finished the meet with 85, good for second place behind host Gardner-Edgerton. The Trailblazers won the meet with a commanding 130 points. Paola placed third with 79, Louisburg finished fourth with 61 and Lansing was fifth with 58.
"Year in and year out this is probably one of the tougher if not the toughest," Williams said.
The Tonganoxie coach looked for the Chieftains to finish third or fourth.
"We got second, so it exceeded my expectations a little bit," Williams said.
The miserable weather didn't seem to phase some Chieftains.
Corey Brest ran his second-fastest 800 time, finishing sixth with a 2:11.55 time. And Andy Kolman ran his second-fastest two-mile time with a 10:32.21 time in the 3,200. Kolman placed third in the event.
"That was in that cold rain late in the meet and I was really impressed with how he ran," Williams said.
In throwing events, Chris Clark had one of his better meets, placing fourth with a 155-10 heave.
As for Nick Stein, he was a scratch away from first place. The senior threw what looked to be a career best around the 49-foot range, weight coach Matt Bond said, but Stein fouled. He had to settle for third with a 46-0 throw. The top throw was 47-9.25.
The Chieftains competed Tuesday in their own Tonganoxie Invitational and travel Thursday to Piper.
A select few will compete Friday at the Shawnee Mission North Relays.
Clark and Tony Aragon will compete in the javelin, Shane Howard will run the low and high hurdles and the high jump, while Stein will compete in the shot put. Travis Andrews will compete in the pole vault, while Levi Huseman will run the open 800 and Kolman will compete in the 3,200.
Kolman, Brest, Huseman and Matt Madeira also will compete in the 4x800.
GIRLS TRACK
Sarah Hartshorn led the Chieftains with their only gold medal of the day with a 103-foot, 4-inch toss in the discus, but Tonganoxie turned in its lowest output of the season.
THS scored 48 points and finished seventh. Wellsville won the meet with 117, while Mill Valley finished second with 92.
"It was a tough meet," coach Bill Shaw said. "There were a lot of good 5A schools with Paola, Gardner and Mill Valley.
"And Wellsville is excellent, so it was a tough meet."
Heather Deaver also scored in the discus, throwing 94-4 for fourth place. She also finished fourth in the shot put with a 30-11.5 throw.
And in the javelin, Ali Pistora again helped the team in throwing events. She finished fifth with a 99-4 throw after throwing a personal best 108 on April 27 at the Cardinal Relays.
In the shot, Shannon Smith almost scored additional points for the Chieftains. She threw a personal best of 29-5.
"That's another girl with a lot of promise," Shaw said.
Jennifer Wagner cleared a personal best 8-0 in the pole vault. She placed third and now is six inches from the school record.
Wagner also finished third in the 100 hurdles with a 17.70 time and fourth in the 300 hurdles in 52.15.
Other Chieftains scoring points were Kylie Ritchey in the triple jump (fifth, 29-10), Laura Jeannin in the 1,600 (fourth, 6:01.1) and Katie Jeannin in the 800 (fourth, 2:39.02).
Pistora and Rebekah Mages also scored in the high jump, taking fifth and sixth respectively with 4-8 heights.
The girls team still is nursing some ailments. Although Madison Weller and Katie Jeannin are recovering from injuries, Elisa Sibinski and Rachel Bogard were ill. Bogard, who Shaw said has become a strong hurdler for the Chieftains, left the meet early because of a flu bug.
"Once she gets healthy, we've got a third hurdler," Shaw said. "She and Jennifer Wagner have been going back and forth."
The Chieftains hope to be at full strength soon, as the season is winding down.
"Again we are looking for a meet where we've got everybody there healthy and we haven't been able to do that since the first meet, quite honestly," Shaw said. "I'm not trying to make excuses, but that's the fact of the matter.
"Our goal is to get everybody healthy by next Wednesday."
That will be the Kaw Valley League meet in Tonganoxie, the Chieftains' second home meet of the season.
The team also competed Tuesday in the Tonganoxie Invitational.
Many athletes will compete Thursday at Piper, but a few will compete Friday at the Shawnee Mission North Relays.
Pistora will compete in the javelin and high jump, Wagner and Rachel Weston will run the high hurdles and Wagner will run the intermediate hurdles.
The 4x800 team of Katie Jeannin, Laura Jeannin, Wagner and Weller will run at SMN, while Laura Jeannin will run the 1,600 and Katie Jeannin the 800.