Shouts and Murmurs
Veteran looks to the bright side
Jim Rogers stands 4 feet tall in his wheelchair. I stand 5 feet 8 inches tall in my stocking feet.
But last Thursday morning I could have sworn Jim Rogers was 10 feet tall.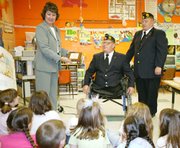 Rogers and fellow American Legion member Buck Smith were at the elementary school to present the Joe Foss award.
The Joe Foss Institute was founded to enlist veterans to teach children about the importance of integrity, patriotism and freedom.
As we waited in the school's foyer, Jim asked me how my day was going. Then I asked about his. As usual he had a smile on his face.
"Well I've had a little setback," he said.
That's when Rogers told me he'd been diagnosed with non-Hodgkin's lymphoma and that he would begin chemotherapy this week.
With ease, and still the bright expression, Rogers assured me that non-Hodgkin's lymphoma is a highly curable form of cancer, and added "if you have to have cancer that's the one to have."
As I followed Rogers and Smith down the hallway to a classroom, I felt anger.
I could only think of one thing: Hasn't this man gone through enough!
Those who know Jim Rogers know that cancer isn't his first brush with death. With Rogers' permission, I will tell you more.
It was the last day of February 1969.
Jim Rogers was 22. The Vietnam War was in full force.
At a base camp 80 miles south of Saigon, Rogers was closing the perimeter around a rice paddy so a medical helicopter could land to pick up five men wounded that day.
"I got about three-fourths of the perimeter completed and I was closing the last leg up," Rogers said. "They had a 105-round buried in the ground. When I went past they blew it on me."
The blast was deadly.
"I remember getting blown up and landing with half my body over a hump," Rogers said. "I looked up and I seen my legs and it looked like a high power rifle went through them. They were still attached, but they were splintered out."
And the pain.
"It felt like 1,000 little needles where the wound was at, it felt like thousands and thousands of little needles and felt like somebody put pepper on it, it made a burning sensation."
Rogers wasn't the only one hurt.
"It killed about five men behind me and about 10 more were wounded," Rogers said.
Rogers and a couple other wounded were evacuated on the first chopper.
At a military hospital in Vietnam, both of Rogers' legs were amputated above the knee.
Eight months later, he was dismissed from an Army hospital in Denver, knowing he would never walk again.
He felt bitter -- not at anyone or anything in particular, but at the world in general, he said.
Rogers hadn't planned to go to Vietnam -- he had been in the Kansas National Guard while taking classes at Finley Engineering College in Kansas City, Mo.
After Vietnam, he didn't go back to school. In fact, there were five or six years when Rogers said, he didn't do much of anything.
Then he got a CB radio. And, he joined a wheelchair basketball team. He also took up competitive sports, even winning a couple of seconds and thirds in his class for javelin and shot put at national meets.
Life just kept getting better.
Fourteen years ago next month, Rogers gathered his courage and asked Mary Torneden for a date. She accepted and they went on their first date on D-Day (June 6). Four years later, on the 50th anniversary of D-Day, the couple married.
Although Rogers' military service altered his life, today he holds no grudges. It helped, he said, that the others recuperating in the military hospitals were also Vietnam veterans.
"Most of the guys would sit around and talk about how they got wounded and stuff -- you see a lot of guys in a lot worse shape than you are," Rogers said. "By talking to them and talking to people that are in the same shape that you're in, it kind of helps out."
And in turn, Rogers has worked to spread his positive attitude through the community.
Last year Rogers was instrumental in reviving Tonganoxie's American Legion chapter. Almost weekly he is seen in Tonganoxie, carrying out some community-service type of project. It was remarkable that last week, with the diagnosis of cancer still fresh on his mind, Rogers took the time to visit the grade school to talk to children about the importance of patriotism.
"You can't worry about the little things," he said, shrugging off his good deeds. "You've got to just keep on going -- do what you can do."
Clearly, Jim Rogers will never again stand at his pre-Vietnam stature of 5-foot-10.
But in my book, he will always stand head and shoulders above many others.