Dream Factory awards $5,000 scholarship
Larry Moore once again has put a smile on Heidi Karn's face.
Karn, who has cystic fibrosis, recently was awarded a $5,000 Larry Moore Dream Maker Scholarship.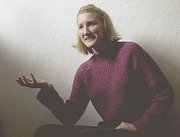 When Karn was a senior at McLouth, the Greater Kansas City Dream Factory provided her with a laptop and printer.
Moore, a news anchor and editor with KMBC Channel 9 in Kansas City, Mo., also is a volunteer with the Dream Factory, which helps make dreams come true for youths who have gone through life-altering illnesses and disabilities. The scholarship was established in 2001 to honor Moore for his volunteer work. Moore called Karn personally to give her the news.
"Still I don't feel as though I've won it yet," Karn said. "I'm just in shock and very grateful."
The scholarship is open to anyone who has had a dream fulfilled by the Dream Factory.
Karn is a junior at Kansas University. Until her freshman year at MHS, Heidi's parents, George and Tracie, performed chest physiotherapy on her three times per day. Also known as thumping, CPT helps break loose mucus around the lungs caused my cystic fibrosis. CF is a genetic disorder that affects the respiratory, digestive and reproductive organs.
But thanks to a special vest, Karn now lives independently. The suit pumps air through tubes and basically shakes and vibrates Karn's lungs so mucus can be removed. Karn wears the vest twice each day and will put it on additional times if she is short of breath.
Her current vest is part of a research program through a Wisconsin inventor, thanks to a hockey game. Karn's aunt was at a youth hockey game the man also was attending. After learning that Heidi had CF, the inventor e-mailed her and now she wears one of his vests -- at no cost to her. The previous vest weighed between 35 and 40 pounds. The current vest tips the scale at 17 pounds and fits in a duffel bag.
"It was a very small world type of feeling that we met the person who made the machine that allows me to live independently," Karn said.
A psychology major, Karn is interested in health care.
"I'd really like to be a patient advocate and act as a liaison between families and hospital staff," Karn said.