Mr. Bogart's swan song
Tonganoxie principal retiring from field of education
In the hallway outside Mike Bogart's office, a teacher and two office staffers chuckle when they figure out a problem with a copy machine.
Bogart smiles and responds with a characteristic one-liner: "How many people does it take to run a copy machine?"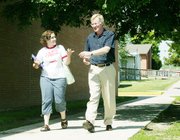 Bogart's quip is anything but serious. It's clear the Tonganoxie High School principal who will retire at the end of this school year has the utmost respect for his faculty.
Bogart credits THS teachers for the school's success in a variety of programs, ranging from debate and forensics to vocal and instrumental music, sports and various organizations.
"It's those individual teachers that created those programs," said Bogart, an administrator at THS since 1987.
And it's the same people who make Tonganoxie unique.
"You could put other schools' people in our building and it wouldn't be the same," Bogart said. "If you'd take our faculty to another district, I'd predict that the other district would improve greatly."
Lasting impressions
Even a casual friend might note Bogart isn't one to boast. He wasn't thrilled about being the focus of a feature story. He didn't jump at the chance to be in a photo. And, when asked about a student on whom he felt he had made an impact, he named a high school dropout.
Bogart's mother, Edie Bogart who lives in Lawrence, said that's to be expected.
According to her, he's always been "a champion of the underdog."
Appreciative of that is Joey Amayo, the 22-year-old Tonganoxie resident to whom Bogart was referring. Amayo dropped out of school in his junior year at THS.
"Mr. Bogart was probably one of the best guys I've ever known," Amayo said. "I went to work," Amayo said. "I had to help take care of my grandpa. My grampa's got emphysema ... he was pretty much ready to die and it was one of those things I had to do."
To Amayo, Bogart was a father figure.
"My dad was never around and it will mess with a kid's head and it did me," Amayo said. "But Mr. Bogart was here and he talked to me about my father and how my mother would take the place. He helped me through not having a dad around and helped me get through all that stuff."
And, in his fatherly fashion, Bogart did his best to keep Amayo out of trouble.
"I was a hot-tempered kid and he never would let me do the things that I wanted to do," said Amayo, who has a construction job. "But I had respect for him and if I felt like getting in a fight, he'd talk me out of it -- always."
More successes
And then there were the students who excelled through high school, as well as college.
Take the three sons of Gene and Debbie Becker, all THS graduates. David is in his third year of medical school at Kansas University School of Medicine, Brett will graduate from KU this month, and last week Andrew was named the outstanding freshman in chemical engineering at KU.
The boys' mother said her sons always told her they appreciated Bogart's interest in them. And, she said, Bogart took the time to thank her and her husband for their work in raising their sons.
"We did get letters from Mr. Bogart telling us that he appreciated the kind of students that the kids were," Becker said. "It was very gratifying, as parents, that our kids were noticed by the principal."
In good hands
When Bogart leaves, his office, a small room with just enough space for a desk and a couple of chairs, will go to his successor, Tatia Shelton.
Shelton, who was hired earlier this year, is currently working as an assistant principal at Garden City High School.
"She'll be great," Bogart said. "I think she looks like she has a lot of spark. She'll have new energy, new ideas and the old place will just go on and be better."
Working with Shelton will be Brent Smith, the current assistant principal, who Bogart described as "a solid, common sense guy, a good family guy. He understands how schools work -- his family has an educational background -- he just knows schools."
I'm your man
When Bogart came to Tonganoxie in 1987, he worked as assistant principal under Lee Smith, who had been at THS since 1979, and before that at Tonganoxie Elementary School as principal since 1966.
Smith said one of the prerequisites of a successful high school principal is confidence.
"Mike had a lot of that," Smith said, recalling his first phone conversation with Bogart. "When I interviewed him on the phone before he came back for the first interview, I was sharing some of the things with him that I was looking for and telling him about Tonganoxie and the district and he said, 'I'm your man.'"
And it appears he was. When Smith retired in 1995, Bogart took over.
Returning to roots
Bogart came to Tonganoxie from the central Kansas town of Stafford. But he was no stranger to this area. He spent most of his childhood in Lawrence, graduated from Lawrence High School in 1967, and earned a bachelor's in education at Kansas University.
Bogart and his wife, Susan, have two sons. Justin is an English teacher and boys basketball coach at Mill Valley High School. Justin and his wife, Kim (DeHoff), have three children, Maggie, Annie and Ben. Mike and Susan's other son, Joel, lives in Lawrence and recently earned a degree in graphic arts.
After earning his bachelor's degree at KU, Mike Bogart taught and coached in McLouth. In 1975, the family moved to Stafford where Bogart taught social science for eight years and coached.
He studied for his master's degree in educational administration during summers at KU. After graduating in 1983, he transferred to Macksville, 20 miles to the west, where he worked as grade school principal. In 1984, Bogart returned to Stafford as high school principal. He stayed there until coming to Tonganoxie in 1987.
Family business
Bogart didn't start out in a teaching family. His father, Len Bogart, worked for Stanley Tool Company. But his mother, Edie Bogart, earned a teaching degree when in her mid-40s.
"So she was a teacher before I was," Bogart said. "I'm very proud of her for that -- she worked over 14 years to get her degree."
After graduating from KU, Edie taught English for 20 years at Lawrence High School. Her son's strengths, Edie said, are basic.
"He's a very compassionate, kind person," she said. "He's honest."
And, she recalled his compassion -- family pets would cling to Mike, and he would always buy something from a child at the door "even if it was his last dime."
Bogart credits his parents, who still live in Lawrence, for their guidance.
The lessons he learned from his parents have stuck with him through life, Bogart said.
"My mother taught me most of what I know about surviving in this world," he said. "... The expectation in our household was always that you get as much education as you can, treat other people decently, be a professional. And then things would work out."