A shot at state
Tonganoxie boys, girls qualify in five events each at regionals
Shane Howard had one last obstacle to get over in regional competition.
Fittingly, it was the hurdles.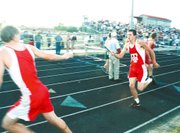 And, yes, he cleared them.
After being denied a state spot in the 110 and 300 hurdles the previous two seasons, the senior advances to Wichita this year. Howard finished with a fourth-place finish in the high hurdles and third in the low hurdles against a talented regional field Friday in Tonganoxie.
"With it being the toughest regional, it gets you hyped up to compete," Howard said.
Howard qualified as a sophomore in the high jump and last year in the 4x800 relay.
Friday 8 a.m. -- girls discus (Sarah Hartshorn). 9 a.m. -- girls 100 hurdles (Rachel Weston). 9:20 a.m. -- boys 110 hurdles prelims (Shane Howard). 9:45 a.m. -- boys shot put (Nick Stein). 11:30 a.m. -- girls javelin (Ali Pistora). 12:10 p.m. -- boys 300 hurdles prelims (Shane Howard). Saturday 1:05 p.m. -- boys 4x800 (THS) 1:15 p.m. -- girls high jump (Ali Pistora). 6:15 p.m. -- girls 800 (Katie Jeannin). 6:40 p.m. -- boys 800 (Levi Huseman).
This year, he'll be focusing on the hurdles after just missing the event in the past.
"Ideally I want to go down and place," Howard said. "In my mind it's about time I qualify in the hurdles."
Tonganoxie finished the meet in ninth place. The Chieftains scored 33 points, 80 behind first-place Fort Scott.
The Tigers' domination was evident. FSHS won the meet with 103; second-place De Soto scored 52. Iola finished in third with 48, while Eudora scored 46 for fourth.
Tonganoxie will send three athletes in four individual events and one relay.
Junior Levi Huseman finished third in the 800 with a 2:35.5 time, while Nick Stein returns to state in the shot put. He heaved the shot 46-11 for fourth place.
The 4x800 team finished with an 8:41.1 time for second, about five seconds behind Baldwin, which won the race with an 8:36 time.
Other Chieftains placed, but did not qualify with a top-four finish.
Andy Kolman finished in sixth in the 1,600 with a 10:50.8 time, while Kent Fleming placed sixth in the shot. Billy Baska placed fifth in the long jump with a 21-1 1/4 leap, while Howard placed sixth in the high jump.
GIRLS TRACK
A horde of purple and black uniforms seemed to suffocate Katie Jeannin down the final stretch of the 800 on Friday.
There was Jeannin in her red and white uniform fighting for a state spot against three Baldwin runners when the group crossed the finish line.
The Bulldogs finished with three of four state-qualifying spots, but Jeannin nabbed one herself. The senior finished in third with a 2:32 time. Amanda Vandertuig won the event with a 2:31.1 time, while Kelsey Heckathorne placed second (2:31.6) and Amy Craig fourth (2:32.9).
In the weight events, Sarah Hartshorn continued her recent tear with the discus. Hartshorn placed second with a 113-7 throw, just less than three feet behind winner Prairie View's Blaire Burke (116-6).
Freshman Ali Pistora, meanwhile, will compete at state in two events. Pistora, who again broke the school record in the javelin, placed fourth in both that event and the high jump. Pistora had experience before this year in the high jump because it was a junior high event, but this is her first year with the javelin.
Pistora, who threw 121-11 Friday, said competing in the softball throw last year was helpful.
"That helped me," the freshman said. "That helped me."
Pistora is the only Chieftain to qualify for multiple events, but she was quick to push attention away from herself.
"Breuer could have gone," Pistora said, referring to senior teammate Kelly Breuer. "She had it. She worked really hard for it."
Breuer, however, missed the finals and ended her prep career at regionals.
In the hurdles, Rachel Weston advanced with a third-place finish in the 100 hurdles. Sumner's Brittany Thomas won the event with a 15.7 time, while Weston and Baldwin's Jamie Lawrenz both were clocked at 16.1. Instant replay showed Lawrenz as the silver medal winner.
Other participants who placed but did not advance to state were Weston in the high jump (fifth), Jennifer Wagner in the 300 hurdles (sixth), Elizabeth Smith in the 3,200 (sixth) and the 4x800 team (fifth).
Baldwin won the meet with 146 points. Fellow Frontier League member Eudora scored 72 for second and Fort Scott finished third with 58.
Tonganoxie placed seventh with 33.