Second beginning
Retired teacher steps into administrator's role at Genesis Christian Academy
Kathie Clarke didn't last long in retirement.
Clarke, a longtime teacher at Maranatha Academy in Shawnee, recently took over as administrator of Genesis Christian Academy.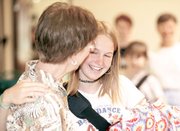 On a recent school afternoon, Clarke took in the sights and sounds of her new school. From the second floor walkway, which is surrounded by classrooms, the soft murmur of children's voices could be heard as they wrapped up another day at school.
Clarke drew in a deep breath, smiled, and said, "It's just so peaceful here."
Her days at the school start early.
At 7:30 a.m., the faculty meets for morning prayer. And, on one morning a week, they also have Bible study before classes start.
"It's just so the teachers to get a good start for our day," Clarke said. "That's been a tradition here."
And, she said, the prayer session fosters a sense of unity.
"It lets us know what's going on in each other's lives that they want to share, and it really is wonderful," Clarke said. "It really is."
Last Friday afternoon, as children were dismissed on the last day of school, Clarke stood in the hallway hugging students goodbye.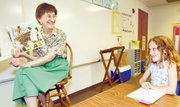 There were plenty of "God bless yous," coming from Clarke and the teachers, as well as the children.
Clarke said that's typical of the school.
"If one of the children falls down you can say a little prayer with them, and of course we have a Bible time just to comfort them," Clarke said.
And when students have birthdays, Clarke said she wants to start saying a prayer for them in the early morning faculty meeting, and send a note to the child from the teachers.
Gradual transition
Clarke sits at her office desk surrounded by the sounds of school children. In the room next door, children in music class are singing the words, "I'm the upright child of the king."
Clarke tilts her head and smiles as she listens.
Her transition from retirement was gradual.
She had taught kindergarten at Maranatha Academy in Shawnee.
"I was very happy teaching ... and loved the children. I felt called by the Lord to do it," Clarke said.
But as the years went by, she said, her feet began to hurt.
"Because when you teach kindergarten you're on your feet all day," Clarke said.
So three years ago she retired from teaching and began working as a substitute teacher. Because she lives near Tonganoxie, just north of U.S. Highway 24-40 and 182nd Street, she also substitute taught at Genesis.
Eventually, Clarke decided she wanted to teach full-time again.
"I thought I would like to have a little more involvement and a little more focus," Clarke said. "... I inquired (at Genesis) if they had an opening. They said would you be interested in the administrator's job, so I applied for that. I thought -- wow -- this is something the Lord is leading me into."
She noted that her job's position includes being director of the preschool.
"I just really felt like it was a match and they did too," Clarke said. "I enjoy it very much."
Traveling with teens
Clarke's husband, Spencer, has also retired -- almost.
An instructor of biology and anatomy and physiology at Maranatha Academy, Spencer retired a year ago.
"But he's still at Maranatha doing the Scholar's Bowl and he's in charge of the buses," Kathie said.
And, each year, the couple take a spring break mission trip to an inner city with high school students from Maranatha. This year they took 28 high school students with them. Before the trip, the students worked Sunday nights preparing dramas to perform before inner city children.
"The students who sign up to do this have voluntarily given up their spring break to go and minister," Clarke said. "They're just wonderful -- we have absolutely loved every trip."
Changing school
It's possible that in the next year or so, Clarke will get to spend more time with teens on a day-to-day basis. That's because Genesis, which currently accepts students from preschool through the sixth grade, will likely add a seventh grade and possibly even an eighth grade.
To accentuate the current curriculum, Clarke is exploring the possibility of adding a Spanish class. Her husband will hold a science lab with fifth- and sixth-graders once a month and Kathie Clarke will be teaching art to all the grade levels.
And of course, the school already has teachers for music and physical education, she said.
When the Clarke meet at home in the evenings they can take long walks on their farm, which includes a house surrounded by trees, a pond, goldfish pool and nature trails carved through the woods. Though the couple cultivates flower beds, they've also learned to accept the gifts of nature that come to them. On a recent visit to their farm, Spencer pointed to a jack-in-the-pulpit plant.
"We didn't find it," he said, chuckling, "It found us."
Overall, Kathie and Spencer are content with their not-quite-retired status. And for Kathie, the best part she said, is that she's working in Tonganoxie and getting to know the people who live here.
"I think it's a sweet town," she said. "I really love it."