Women seeking home for dog
So far, three area women have racked up $150 in veterinary care for a dog that isn't theirs.
But they don't care about the money. They just want to find a home for the dog.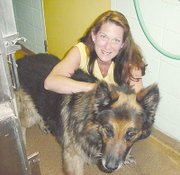 Kim Smoots, office assistant at Coldwell Banker Real Estate, 178th Street and U.S. Highway 24-40, and her co-workers saw the dog walking along the highway last week.
The dog is a dark-colored German Shepherd. His collar appears to be black and his age is estimated at 8 or 9 years, Smoots said.
"He looked terrible and he was dragging his hind hip," Smoots said.
One of the agents took water to the dog, and then, after numerous cars had passed, a friendly stranger stopped to help, Smoots said.
And, despite the fact that the dog was covered with ticks and smelled bad, the woman offered to take him for help.
"We loaded the dog in her backseat and she drove it over to a vet," Smoots said. It stayed there for a couple of days.
Since then the dog has been taken to a veterinary clinic in Johnson County. Although the women at first thought the dog had been struck by a vehicle, they later learned he has hip dysplasia -- an abnormal development of the hip joint where the head of the femur does not fit snugly into the hip socket. Dogs with dysplasia are often in pain and are lame on one or both rear legs.
"The vet said the dog had hip dysplasia and was really old and that he'd probably been dumped because of it," Smoots said.
However, she acknowledged the possibility that he'd merely left a nearby home and gotten lost. In fact, Smoots said a deputy with the Leavenworth County Sheriff's Department asked nearby residents if they knew where the dog had come from.
The women who are paying for the dog's care are Joan Papineau, a Realtor who works in the office where Smoots works, and two of her friends.
Right now, they have two options -- find a home for the dog or have him euthanized, Smoots said.
His disposition is such that it would be a shame to euthanize him, Smoots said.
"He's sweet, very sweet," she added.
And, she said, he can still get around on his own -- for short distances.
"If we can't find the owner, I hope we can find somebody who can just give the dog a nice cool yard to lay in," Smoots said. "Otherwise we'll just have to put him to sleep."