New time for kickoff of Tonganoxie-Hayden game; directions to stadium
Game starts at 2:30 p.m.
Saturday's Tonganoxie-Hayden football playoff game has been set for 2:30 p.m. in Topeka -- a half-hour earlier than the time originally agreed to, THS athletics director Brandon Parker said Thursday.
The Chieftains (9-1) defeated Basehor-Linwood, 34-10, Tuesday in Tonganoxie, while the Wildcats (10-0) defeated Marysville, 29-0, Tuesday in Topeka.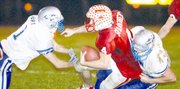 The regional game will be played on Hayden's home field, located at 401 SW Gage Blvd. in Topeka. Originally, the game was set for 3 p.m., but Hayden school officials balked at the 3 p.m. start, so the game was moved up by a half-hour.
Directions to Hayden High are as follows:
Route No. 1
Take U.S. Highway 24-40 to Lawrence.
Get on the Kansas Turnpike at the East Lawrence exit and travel west on Interstate-70.
Take I-70 West to the Gage Blvd. exit (Exit 358B)
Turn left onto Gage Blvd. (You will be traveling south).
Hayden High and its football stadium, will be on the right side of the road on SW Gage Blvd.
Route No. 2
Take U.S. Highway 24-40 toward Lawrence.
North of Lawrence, where U.S. 24-40 meets 24-59, take a right onto U.S. 24-59 (north).
Take Highway 24 to Topeka.
In Topeka, take the U.S. Highway 75 South exit.
From U.S. 75, merge onto Gage Blvd.
Head south on Gage Blvd. to Hayden High and its stadium, which is located on the right side of the road on SW Gage Blvd.