Man severely injured in explosion, fire at rural barn
Relatives say man working on gasoline tank of truck
A rural Leavenworth County man was severely burned Tuesday morning in an explosion and fire inside a barn on 182nd Street, between U.S. Highway 24-40 and Evans Road.
According to witnesses, Elmer "Bill" Lee, apparently was welding a gasoline tank onto a truck when the explosion occurred.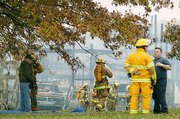 "He's burned terrible," said his mother-in-law, Aletha Beach.
Lee was taken by air ambulance to the University of Kansas Hospital in Kansas City, Kan. No condition report was immediately available. However, Lee's stepdaughter, Jaime Smith, saw him running from the barn after the explosion.
"He was yelling, 'Help me,'" Smith said. "I told him to drop and roll to put himself out. He was covered in gasoline."
Smith's mother died nearly three years ago, and her stepfather had been living with her grandparents, Althea and Alvee Beach, helping care for Mr. Beach.
"It's a tragedy," Smith said. "That's what it is. I lost my mom, and now my stepdad."
For more on the explosion, see the Nov. 17 edition of The Mirror.