Duel of the grapplers
Wrestling standouts Erisman, Starcher to meet on football field
Their similarities are abundant.
De Soto junior Neil Erisman advanced to the state wrestling meet as a freshman and sophomore. Erisman has been a league, regional and national champion and has competed overseas. He finished as state runner-up as a freshman and placed third last February with a 27-2 record.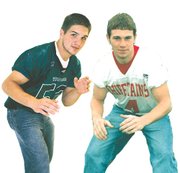 Tonganoxie senior Ross Starcher has been to the state meet the last three years. He has won league and regional titles and finished last season at 41-4.
Oh, and the two grapplers also are the starting quarterbacks for their respective teams.
Erisman's 6-1 Wildcats will take on Starcher's 6-1 Chieftains Friday in De Soto.
Erisman has been the Wildcats' quarterback since districts began during his freshman year. Now a junior, Erisman filled in for injured senior Greg Francis when he was a freshman during the final three games of the 2002 season. And on defense, Erisman has been a starter as a defensive back his entire prep career.
Starcher, meanwhile, has waited his turn to direct the Chieftains. With Justin Walker as the team's No. 1 quarterback the past two seasons, Starcher had to wait his turn. Walker now is playing at Missouri Western; Starcher now is racking up big yardage as a senior. With seven games under his belt, Starcher has rushed for 822 yards, 226 of which came against Basehor-Linwood.
"His escape ability gets him out of holds," THS coach Mark Elston said, referring to wrestling. "He uses that as well running the ball."
Erisman has used his footwork also, rushing for more than 600 yards this season. He also has passed for more than 300 yards during his junior year.
From the mat to the field
Wrestlers aren't a timid breed.
When you're taking on an opponent in wrestling, a grappler can't be apprehensive. For Erisman, that is an important trait he takes from wrestling to football.
"I'm just kind of naturally more aggressive being a wrestler," Erisman said.
Starcher agreed.
"They're both contact sports," Starcher said. "You've got to get in there and take 'em down."
That's certainly the case on defense, where both players have to deliver take-downs rather than perform escapes.
When it comes to the quarterback position, Starcher has found technique in wrestling carries over to the gridiron when the senior works to slip out of a defender's grasp.
"It helps, I think, with balance," Starcher said. "You can bounce off tackles and stay up."
Getting defensive
The signal-callers aren't just about offense. Both played varsity initially as defensive backs before they settled in at the helm of the offense.
Starcher has been a constant in the Tonganoxie defense for some time.
"His tackling skills are tremendous because of his wrestling skills," Elston said. "Defensively he recognizes things on the ball."
Same goes for offense. Elston said Starcher audibles about 25 percent of the time from the backfield.
Leading the charge
The quarterback is a natural leader for any football team.
Scott said his quarterback has been tremendous for the Wildcats.
"You can't question the fact that he's our leader," Scott said. "I don't know of a football team whose quarterback isn't their leader.
"Same in football and same in wrestling. You can't hide. If you're a quarterback or on the wrestling mat, you're in the spotlight. Everyone can see you."
Scott said Erisman's participation in national wrestling tournaments since "he was little" has helped breed his competitive spirit. Erisman embraces competition, according to Scott.
Elston had a similar assessment of Starcher, noting that the senior leads by example.
"They know he's going to spill his guts on every play," Elston said. "You can't ask for more than that out of a leader. You know what you're going to get form him when you put him on the field."
Basically, the Chieftains know where to turn when the game is on the line. Against Bishop-Ward, for example, Tonganoxie trailed, 6-0 with 1:42 left. On first-and-10 from the Cyclone 15, Starcher scrambled 10 yards and then carried half the Ward defense on his back for the remaining five yards.
"You can be up 14-2 and three seconds later you're on your back and pinned," Elston said about wrestling. "He's got a definite killer instinct and a never-give-up attitude.
"He wants to be there in a pressure situation. He wants to have the ball in his hand."
Pre-game is a different situation, Starcher said.
"I think I get just as nervous in football as in wrestling," Starcher said. "I just get more focused I guess."
Scott said Erisman doesn't get nervous -- usually.
"Granted, this Friday he might feel differently because there's a lot on the line."
Scott, who is in his fifth season at De Soto, is 0-4 against the Chieftains. Last year, both teams were highly touted in their early-season match-up, but THS came away with a commanding lead.
"We remember last year when they beat us 55-19 and we'd like to turn that around," Erisman said.
Both teams are 6-1 overall and 1-0 in districts. De Soto has a Frontier League championship banner to hang up this fall, while Tonganoxie will finish second in the Kaw Valley.
The stage is set again this year as two top football teams with standout grapplers face off.
In wrestling, Erisman competed at 145 pounds as a freshman, 152 as a sophomore and likely 160 this winter.
Starcher wrestled at 112 as a freshman, 135 as a sophomore and 145 last year.
There was discussion of Starcher wrestling at 152 to face Erisman last year, but that never materialized.
"We've never wrestled," Erisman said. "I've seen him wrestle several times. We know of each other."
The grapplers should become quite acquainted Friday in De Soto.